History (Hilltowns)
From Helderberg Hilltowns of Albany County, NY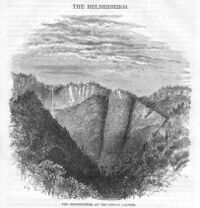 Town Histories:
General historic references for the Hilltowns:
General History Topics
Slavery
New York state laws regarding Negro Slavery.[1]
The emancipation of slaves by the Quakers was legalized in 1798. At that date there were still about 33,000 slaves in the state.
On March 29, 1799, an act was passed for the gradual abolition of slavery in New York. Any child
born of a slave after July 4th was to be free at the age of 25 if a girl and 28 if a boy.
In 1817 an act was passed providing for the emancipation of all slaves in 1827 — 36 years before National Emancipation.