Frink, Homer
From Helderberg Hilltowns of Albany County, NY
Birth
Homer Frink was born November 10, 1884 in Knox, NY, the son of Charles Mason Frink ( - July 29, 1903) and Euphemia Truax (1857 - ). His brother was:
Millard Frink (October 28, 1889 - November 20, 1940) married Catherine Gilbert (Katherine E. Gilbert)(November 19, 1894 - October 23, 1950)
Education
Occupation
Homer Frink formerly operated the old Altamont Livery stables.
Marriage & Children
Homer Frink married Emma Williams (1887 - May 8, 1923) on November 21, 1907 in Knox, NY. Emma Williams was the daughter of Elam Williams (1844 - Febraury 14, 1907) and Catherine Allen (1848 - 5/17/1927) (daughter of Sylvester Allen). Homer and Emma's daughter was:
Elsie Frink married James Peterson about 1931
He married second Maud H. Bellinger, the daughter of Willis Bellinger (November 12, 1860 - January 16, 1938) and Mrs. Bellinger ( - January 28, 1934). Maud Bellinger was previously married to Harold C. Mattice on June 1, 1912.
Death
Homer Frink died July 16, 1943 at his home in Altamont.
Obituary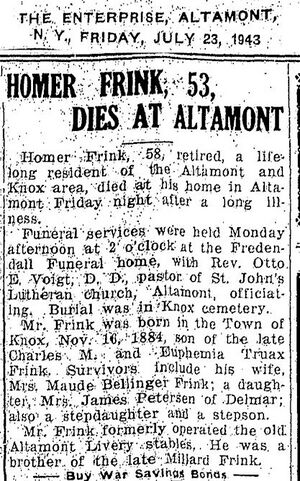 Homer Frink, 53, Dies at Altamont
Homer Frink, 58, retired, a life-long resident of the Altamont and Knox area, died at his home in Altamont Friday night after a long illness.
Funeral services were held Monday afternoon at 2 o'clock at the Fredendall Funeral home, with Rev. Otto E. Voigt, D. D., pastor of St. John's Lutheran church, Altamont, officiating. Burial was in Knox cemetery.
Mr. Frink was born in the Town of Knox, Nov. 16, 1884, son of the late Charles M. and Euphemia Truax Frink. Survivors include his wife, Mrs. Maude Bellinger Frink; a daughter, Mrs. James Peterson of Delmar; also a stepdaughter and a stepson.
Mr. Frink formerly operated the old Altamont Livery stables. Her was a brother of the late Millard Frink.
Altamont Enterprise - July 23, 1943
Additional Media
Homer Frink moved to Peter Orsini's house in Altamont - Altamont Enterprise - November 20, 1931
Sources
---