Frink, Millard
From Helderberg Hilltowns of Albany County, NY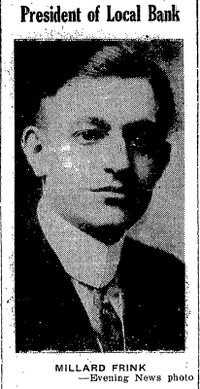 Birth
Millard Frink was born in October 28, 1889, the son of Charles Mason Frink ( - July 29, 1903) and Euphemia Truax (1857 - ). His brother was:
Education
He attended the Albany Business college.
Military
New York, World War I Veterans' Service Data, 1913-1919 about Millard Frink
Name: Millard Frink
Birth Date: 28 Oct 1889
Birth Place: Knox, New York
Enlistment Date: 20 May 1918
Enlistment Place: Watervliet, New York

New York State Archives; Albany, New York; Reel Number: A0412:1; Residence City: Albany; Residence County: Albany.
Source Information: Ancestry.com. New York, World War I Veterans' Service Data, 1913-1919 [database on-line]. Provo, UT, USA: Ancestry.com Operations, Inc., 2011.
Occupation
Millard Frink was employed by the Standard Oil Company. For several years he was with the State Department of Agriculture and Markets, of Albany. Embarking on a business venture of his own, he started a garage and farm implement plant which was expanded during the years and now serves a wide territory. He was president of the First National Bank of Altamont. He was also a member of the automobile agency carried on by Frink and Westfall, with offices it Altamont. His wife, Katherine, tried to keep the business going after his death.
Marriage & Children
Millard Frink married Catherine Gilbert (Katherine E. Gilbert)(November 19, 1894 - October 23, 1950) [1] August 23, 1928 at Athens, Greene County, NY. Katherine's sisters included Theresa Gilbert Matthews of Altamont and Dorothy Isabelle Gilbert of Altamont. Her mother was Mrs. Margaret Gilbert. Their children were:
Charles G. Frink married Mary Ann Renner in Glendale, CA. He was in the military for two years. He graduated from Altamont High School in 1947. He worked for IBM and was active in the Altamont Kiwanis.
Marguerite E. Frink married Lloyd M. Demboski, son of Mr. and Mrs. John A. Demboski of Tivoli, NY in Altamont on July 31, 1954. Marguerite was Salutatorian at Altmont High School in 1949.
Death
Millard died November 20, 1940 at his home, 123 Lincoln Avenue, Altamont, NY. Obituary

Frink, Prominent Area Business Man, Succumbs
Widely Known In Capital District Through Business, Civic Associations
Millard Frink, prominent Altamont business man, and former president of the First National Bank of Altamont, died at his home, 123 Lincoln avenue, Wednesday night (November 20, 1940) after a long illness. He was 51.
Mr. Frink had been in failing health for over a year, and although he underwent a serious operation about a year ago, he did not make a favorable recovery. Active in business and other associations, Mr. Frink was widely known throughout the Capital District.
He was born at Knox on October 28, 1889, son of Charles Mason Frink (Abt 1851 - July 29, 1903), and Euphemia Truax Frink. In his early boyhood the family moved to Altamont.
He attended the Albany Business college and later was employed by the Standard Oil Company. For several years Mr, Frink was with the State Department of Agriculture and Markets, of Albany. Embarking on a business venture of his own, he started a garage and farm implement plant which was expanded during the years and now serves a wide territory. He was also a member of the automobile agency carried on by Frink and Westfall, with offices it Altamont.
Mr. Frink was a veteran of the World War. He was a member of all Masonic bodies, including Noah Lodge, Noah Chapter, Temple Commandery. and Cyprus Temple. He was a charter member of the Albany County Farm Bureau, having been affiliated with that organization for a quarter of a century. Mr. Frink also took a keen interest in community and civic affairs. For many, years he was a member of the Board of Directors of the Albany-Schenectady County Fair association. He was for a number of years secretary of that organization. Elected president of the First National Bank of Altamont some years ago, Mr. Frink carried on through the reorganization of that institution, and served also as the bank's liquidating agent. He was a member of the Altamont Reformed Church.
Funeral Saturday
Survivors include his wife, the former Katherine Gilbert, a native of Athens; a son, Charles; and a daughter Marguerite; also his mother, Mrs. Frank Ogsbury; a brother, Homer Frink, of Altamont. Funeral services will be held Saturday afternoon at 2 o'clock at the Fredendall Funeral Home. Officiating clergymen will be Rev. H. Curtis Ficken of the Altamont Reformed church. Rev. Jacob Van Ess of Greenport, and Dr. Otto E. Voigt, D, D., of St. John's Lutheran church, Altamont. Altamont Enterprise - November 22, 1940
Additional Media
World War I Draft Registration Cards, 1917-1918
Name: Millard Frink
County: Albany
State: New York
Birth Date: 28 Oct 1889 Race: Caucasian (White)
FHL Roll Number: 1711820
DraftBoard: 2

Sources
---