Sholtes, Friend
From Helderberg Hilltowns of Albany County, NY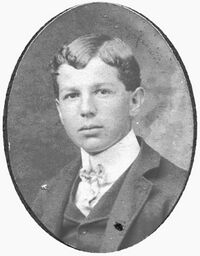 Birth
Friend Sholtes was born June 8, 1889, one of nine children of Stanton Sholtes and Ida Gibbs on the Rock Road Sholtes farm formerly in Town of Berne, now in Town of Knox.
Occupation
Friend worked for a time in Schenectady N.Y. as a trolley conductor. He also worked on the family farm on Rock Road. After brother Jesse moved to Berne village, Friend bought the Sholtes farm and operated it until 1956 when he retired due to ill health and bought a home in Berne.He sold the farm in 1958. It had been in the Sholtes family nearly 175 years.
Marriage & Children
Friend Sholtes married Gertrude Mason and they had one daughter, Virginia Sholtes.
Death
Friend Sholtes died on April 21, 1958. He was buried in the Knox Cemetery family plot, Knox, Albany County, NY.
Additional Media
Sources
---