Wright, Frank Arthur
From Helderberg Hilltowns of Albany County, NY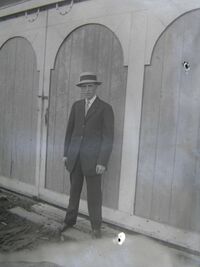 Birth
Frank Arthur Wright was born on August 18, 1888 to Enos J. Wright and his wife Ida Mae Schoonmaker.[1][2] He had an older sister Luella Esther Wright and a younger sister Pauline Agatha Wright.[1]
Occupation
Frank was a farmer and a U.S. mail carrier.[3][2]
He took over his father's and Uncle Ethan's farming business at only 17 years old under his mother's supervision.[4][5] On his farm, which he called "Cloverdale", he raised hay and chickens for the meat and eggs. [6] The chicken coop was over 50 feet long and he had a extra large commercial refrigerator to store the eggs and meat. In addition the family had fruit trees and kept a vegetable garden for their own needs.
Frank worked for the U.S. Postal Service for 30 years before he retired.[2] Family stories told that he would deliver his eggs early every morning in Albany before he picked up the mail he was to deliver that day. [7]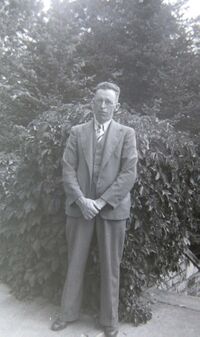 Marriage & Children
About 1911, Frank married Luella Bassler, who was born on March 6, 1890, to Fred H. Bassler (B. 1866 Rensselaerville, M. June 23, 1889, D. 1910-1915) and Lora J. Bassler (B. abt 1868, D. Jan 31, 1937).[1] (Luella's parents were both Basslers and were related.) Their only child, Florence Grace Wright was born on April 9, 1922.[1]
Life
Frank lived on the farm, where he was born, for his entire life. The farm house where he lived had been built by his father Enos and was of Greek Revival design. Frank updated it during his life time to include a larger craftsman style shingled porch along the front of the house. He also added a single car garage when he bought the family's first automobile. The house, which originally had been heated by two stoves and a whole house wood/coal furnace, was barely updated during his lifetime.
Frank loved photography and took many photos. He owned a Brownie camera, which was very common among his generation. Many of his photos were taken of farm equipment, the family and also family trips. He loved to take photos of Thacher Park.[7]
After the death of his wife Luella, Frank transferred ownership of the family farm to his daughter Florence on February 5, 1965.[5]
Death
Frank's wife Luella Bassler Wright died first on December 22, 1964 after a long illness and she was buried at Woodlawn Cemetery in Berne.[1]
Two years later, Frank died on May 7, 1966, and was buried with his wife in Woodlawn Cemetery in Berne.[1] They have a joint gravestone.[1][8]
Obituary
"Frank A. Wright-The community was greatly shocked last Saturday to hear of the sudden death of Frank A. Wright. Mr. Wright was driving in the village of Cobleskill when he suffered a stroke and died at Community hospital in Cobleskill in the afternoon. He was the son of the late Enos and Ida Wright and spent his entire life on the farm in the eastern end of the village of Berne where he was born August 18, 1888. He was a retired poultry farmer and served as rural mail carrier for 30 years. At an early age he affliated with the Berne Lutheran Church and served as an officer for many years. Husband of the late luella Bassler he is survived by one daughter Mrs. William F. Flagler and four grandchildren, Bruce, Bonnie, Brent and Bradley Flagler. Funeral services were held on Tuesday morning at the Applebee Funeral Home in Delmar with Rev. John H. Meyer and Rev. James D. Keller officiating. Interment was in the Woodlawn Cemetery in Berne."[1]
Additional Media
Sources
↑

US Censuses

↑

1905 NY State Census, Berne, Albany Co, NY

↑

American Agriculturist Farm Directory and Reference Book for Albany and Rensselaer Counties NY

↑

Woodlawn Cemetery Gravestones, Bernehistory.org
---