Wright, Enos J.
From Helderberg Hilltowns of Albany County, NY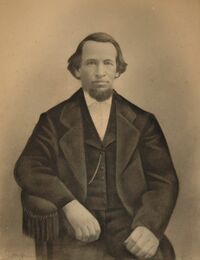 Birth
Enos J. Wright was born January 29, 1837, in New York probably in Berne to James J. Wright (1804-1872) and his wife Esther Wright (B. 1809-1885).[1] His parents were both Wrights and related to one another. Enos was one of five children, two of which died in early childhood.[1] Enos was raised with two older brothers, Egbert Wright and Ethan Wright, and an older sister, Hannah Wright.[1]
Occupation
Enos was a farmer. Having been born and raised in a rural community where farming was the primary occupation, Enos joined his father in the farming business. Enos did not marry until later in life and was still working with his father and brother Ethan in the farming business in 1870.[2] Apparently they did well financially as they were able to support three grown men and employ a young woman as housekeeping help for their elderly mother.[2] When his father, James J. Wright died on March 14, 1872[1], Enos and his brother Ethan took over the farming activities.[3] Enos continued to farm with his brother Ethan, who never married.[4]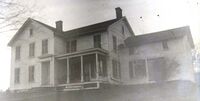 Marriage & Children
On December 23, 1885, Enos Wright married Ida Mae Schoonmaker (B. May, 21, 1858, D. June 21, 1933).[1]

Enos and Ida Mae had three children:
Their marriage occurred a few months after the death of his mother. Ida Mae Schoonmaker, who was 27 years of age, had been a domestic in the home of his parents. Ida Mae had been born on May 21, 1858 to Charles H. Schoonmaker and Phebe Esther Gardiner, and thus was about two decades younger than Enos.[1] The spelling of Ida Mae's name is uncertain as both May and Mae has been recorded.
Residence
At about the time of the 1900 census, Enos built a Greek Revival farm house on Heldeberg Trail (Rt. 443) in the village of Berne. It was said to have replaced an earlier house. The large two story frame house included a large attic, a front porch facing south toward the road and a summer kitchen to the east. Ultimately the farm included one large post and beam three story barn, a large chicken coop for the commercial raising of chickens, two small room sized sheds, a single car garage, a small barn and the outhouse. The small barn, a salt boxed style building with two stories, was previously a house in East Berne before it was moved to the current location.
Life
In the 1890s Enos Wright bought several pieces of property. The first on April 24, 1890 from J. M. Hochstrasser and others. The second March 27, 1893 from Lany E. Christler and the third April 30, 1895 from Roxcie and Alvira Hochstrasser.[6]
Death
Enos died on March 3, 1905, probably in Berne at 68 years of age, and was buried at Beaverdam Cemetery in Berne.[1]
He left his young widow Ida, only 48 years old, with their children Luella 18, Frank 17 and the youngest Pauline, who was only 6. At 17 years of age, Frank was able to handle many of their farming chores and ultimately took over the farm.[7] His widow, Ida May, was the administratix of his estate.[8]
Enos' widow Ida Mae did not die until June 21, 1933.[9]
Additional Media
Sources
↑

1880 US Census, Berne, Albany Co, NY

↑

1900 US Census, Berne, Albany Co, NY

↑

Luella Esther (Wright) Sand's Obituary from newspaper clipping in the Hon. and Mrs. Franklin M. Shultes' scrapbook, Bernehistory.org

↑

Albany County Deed records, Albany Hall of Records

↑

1905 NY State Census Berne, Albany Co, NY

↑ "Notice to Creditiors", Altamont Enterprise March 1905
↑ Mrs. Ida M. Wright's obituary Altamont Enterprise Friday June 30, 1933
---