Bortell, Harold V.
From Helderberg Hilltowns of Albany County, NY
Birth
Harold Vanwert Bortell was born April 10, 1916 in Bennington, Bennington Co., Vermont, the son of Ralph Henry Bortell and Lena May Somers. His siblings were:
Charles Bortell
Mary Bortell
Mrs. Eleanor Jones (from obituary)
Education
Military
Harold V. Bortell may have enlisted too late to be recorded as a soldier in World War II on his grave.
U.S. World War II Army Enlistment Records, 1938-1946 about Harold J Bortell[1]
Name: Harold J Bortell
Birth Year: 1916
Race: White, citizen (White)
Nativity State or Country: Vermont
State of Residence: Vermont
County or City: Bennington

Enlistment Date: 7 May 1945
Enlistment State: Vermont
Enlistment City: Rutland
Branch: No branch assignment
Branch Code: No branch assignment
Grade: Private
Grade Code: Private
Term of Enlistment: Enlistment for the duration of the War or other emergency, plus six months, subject to the discretion of the President or otherwise according to law
Component: Selectees (Enlisted Men)
Source: Civil Life

Education: Grammar school
Civil Occupation: Semiskilled occupations in fabrication of textile products, n.e.c.
Marital Status: Single, with dependents
Height: 68
Weight: 000

Occupation
Marriage & Children
HArold Bortell married Genevieve Mayr. Their children were:
Step-child was:
Mrs. Kenneth (Joycelyn) Farrar
Death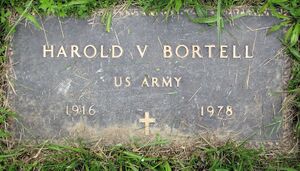 Harold V. Bortell died Dec. 20, 1978.
Obituary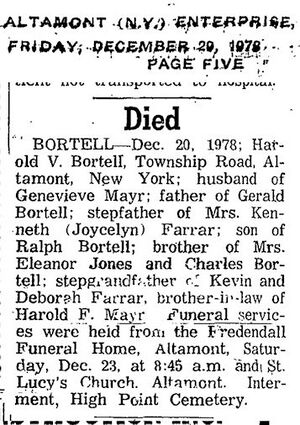 BORTELL—Dec. 20, 1978; Harold V. Bortell, Township Road, Altamont, New York; husband of Genevieve Mayr; father of Gerald Bortell; stepfather of Mrs. Kenneth (Joycelyn) Farrar; son of Ralph Bortell; brother of Mrs. Eleanor Jones and Charles Bortell; stepgrandfather of Kevin and Deborah Farrar, brotber-in-law of Harold F. Mayr. Funeral services were held from the Fredendall Funeral Home, Altamont, Saturday, Dec. 23, at 8:45 a.m. and St. Lucy's Church. Altamont. Interment, High Point Cemetery.
Altamont Enterprise — December 29, 1978
Social Security
Harold Bortell: Social Security Death Index (SSDI) Death Record[2]
Name: Harold Bortell
State of Issue: Vermont
Date of Birth: Monday April 10, 1916
Date of Death: December 1978
Est. Age at Death: 62 years, 8 months

Census Records
1930 United States Federal Census about Harold V Bortell[1]


Name: Harold V Bortell
Gender: Male
Birth Year: abt 1917
Birthplace: Vermont
Race: White
Home in 1930: Bennington, Bennington, Vermont
View Map
Marital Status: Single
Relation to Head of House: Son
Father's Name: Ralph H Bortell
Father's Birthplace: New York
Mother's Name: Lena Bortell
Mother's Birthplace: Vermont
Household Members:
Name Age
Ralph H Bortell 35
Lena Bortell 34
Harold V Bortell 13
Mary E Bortell 12
Charles E Bortell 11
Mary Summers 69
John Summer 41


1940 United States Federal Census about Harold Bortell[1]


Name: Harold Bortell
Age: 24
Estimated Birth Year: abt 1916
Gender: Male
Race: White
Birthplace: Vermont
Marital Status: Married
Relation to Head of House: Son
Home in 1940: Bennington, Bennington, Vermont
Street: Lyons Street
Inferred Residence in 1935: Bennington, Bennington, Vermont
Residence in 1935: Same Place, Long Island
Sheet Number: 1A
Father's Birthplace: New York
Mother's Birthplace: Vermont
Occupation: Attendant
Attended School or College: No
Highest Grade Completed: Elementary school, 8th grade
Hours Worked Week Prior to Census: 42
Class of Worker: Wage or salary worker in private work
Weeks Worked in 1939: 52
Income: 1000
Income Other Sources: No
Native Language: English
Veteran: No
Social Security Number: Yes
Usual Occupation: Attendant
Usual Industry: Filling Ste
Usual Class of Worker: Wage or salary worker in private work
Neighbors: View others on page
Household Members:
Name Age
Ralph Bortell 48
Leona Bortell 47
Harold Bortell 24
Catherine Bortell 20
Gerald Bortell 5/12
Charles Bortell 22
Mary Somers 79

Additional Media
Vermont Birth Records, 1909-2008 about Harold Vanwert Bortell[1]
Name: Harold Vanwert Bortell
Gender: Male
Birth Date: 10 Apr 1916
Birth Town: Bennington
Birth County: Bennington
Mother's Maiden Name: Somers
Mother's Name: Lena May
Mother's Birthplace: Vermont
Mother's Residence: Bennington
Father's Name: Ralph Henry Bortell
Father's Birthplace: New York
Event Type: Certificate of Birth

U.S. Public Records Index, Volume 2 about Harold V Bortell[1]
Name: Harold V Bortell
Birth Date: 10 Apr 1916
Address: Township Rd, Altamont, NY, 12009

Sources
---