Armstrong, Hannah Ann
From Helderberg Hilltowns of Albany County, NY
Birth
Hannah Ann Armstrong was born February 23 1832. She was the daughter of Andrew W. Armstrong (3/9/1808-1871) and Ruth Benjamin (1809-3/11/1865).
Marriage & Children
Hannah Ann married 1) circa 1852, Alexander Zimmer (2/2/1826-6/6/1868), and 2) Joseph ("Jay") Crary (2/13/1825-d. after 6/1/1880). Her children were:
Marcus Zimmer, b.8/5/1859
William A. Zimmer, b. 3/10/1868, d. 11/2/1902)
Death
Hannah Ann died June 18, 1904.
Obituary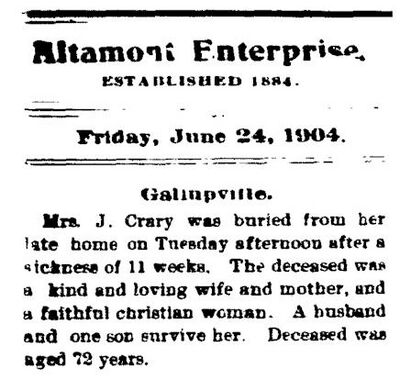 Mrs. J. Crary was buried from her late home on Tuesday afternoon after a sickness of 11 weeks. The deceased was a kind and loving wife and mother, and a faithful christian woman. A husband and one son survive her. Deceased was aged 72 years.
Altamont Enterprise — June 24, 1924
Additional Media
Sources
---