Winne, Peter
From Helderberg Hilltowns of Albany County, NY
Birth
Peter Winne was born in Albany County on April 17, 1823[1][2] to Peter Winne and his wife Catherine.[3]
Marriage & Children
In about 1851, Peter married Phebe M. Decker (B. Nov 12, 1834 Berne, D. Jan 17, 1917]][4][2] and by her had the following children:
Occupation
Military Service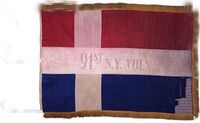 | | |
| --- | --- |
| Residence: | Berne[3] |
| Place of Birth: | Albany County[3] |
| Names of Parents: | Peter (Winnie) and Catherine Burn__?[3] |
| Occupation: | Farmer[3] |
| Enlistment Date: | 18 Aug 1864[9][4][10] |
| Enlistment Place: | Albany, NY |
| Enlistment Rank: | Private |
| State Served: | New York |
| Regiment: | 91st Infantry[4][10] |
| Company: | Company D>[10] |
| Discharged for Disability on: | 2 Jun 1865[9] |
| Discharged at: | Douglas Hospital, Washington, DC[9] |
Additional Remarks: Enlisted at the age of 35. [9] Wounded once in both ? but not ?.[4] "shot through both thighs."[10]
Sources Used: 1865 census, Berne, Albany Co., NY; Ancestry.com, American Civil War Soldiers; Town and City Registers of Men Who Served in the Civil War
Life
In 1850, at age 23, Peter Winne can be found working for a farmer, Henry H. Mallory, and his wife Ellen in Berne.[11] Also living with the family was a teenager named Phebe M. Decker.[11] Just a year or so after that census Peter and Phebe married, and they quickly began a family. In 1865, while Peter was serving in the Civil War, his wife and children were living in a frame house in Berne valued at just $100.[4] Peter, who was still in the army, was recorded as a farmer.[4] Five years later in 1870, they had moved to New Scotland where Peter was still working as a farm laborer and they owned a house.[6] By 1880 Peter and his family were back in Berne living with the family of Patrick Shay.[5] Peter and his eldest living son William were working as farmers.[5] This census recorded that Peter could not read or write..[5]
Death
Peter Winne died on February 18, 1885 and was buried at the Reidsville Cemetery in Reidsville.[1]
Post Script
After his death, his wife Phebe was recorded in the 1890 US Veterans Cenus as his widow.[10] That census recorded that she had moved to Clarksville, New Scotland, Albany Co, NY and was living with Abraham B. Decker, who also was a Civil War veteran.[10] His wife Phebe bought the residence of Abram Van Deusen in Clarksville in October of 1893 for $1460, which for the remainder of her life she would rent part of.[8][7][12] Phebe died on January 17, 1917 and was buried with her husband at Reidsville Cemetery.[1]
Obituary
Additional Research Notes
Additional Media

Sources
↑ 1.0 1.1 1.2 Hannay, Lt. Col Wm V., Burying Ground Inscriptions Town of Berne, Albany County, NY, "The Dutch Settleres Society of Albany Yearbook Volume XXI-XXII, Published by The Dutch Settlers Society of Albany, 1945-47.
↑ 5.0 5.1 5.2 5.3 5.4 5.5 5.6 1880 US Census, Berne, Albany Co, NY Cite error: Invalid <ref> tag; name "1880Census" defined multiple times with different content
↑ 8.0 8.1 1900 US Census, Saratoga, Albany Co, NY Cite error: Invalid <ref> tag; name "1900Census" defined multiple times with different content
↑ Altamont Enterprise, Clarksville column, various dates.