Walleye Stocking
From Helderberg Hilltowns of Albany County, NY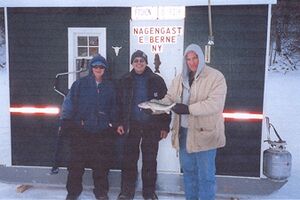 In early 1999 a few fishermen had dreams and wishes of Warner's Lake having one of the best eating fish around. They were dreaming of the walleye and together they all made it happen.
Keith Kodra, Dr. David Gillenwalters, and Peter Gorman spoke with Willard Osterhout about this dream. Willard suggested they discuss this with the Warner's Lake Improvement Association. The W.L.I.A. was excited about the idea of having walleye in the lake like there were many years ago.

Keith contacted New York State Fisheries and was told that due to lack of funds the state could not stock Warner's Lake. Keith was told that he could obtain a permit to stock the lake himself, which he did.
Keith contacted Mark Cornwell, a fisheries and aquaculture technician at Cobleskill College to ask for advice and help with this stocking program. Mark and his students came to Warner's Lake to do some testing, to insure the lake would be suitable to sustain walleye. All testing showed Warner's Lake would be suitable for walleyes.
This is when Keith, David and Peter formed the Warner's Lake Walleye Association. Together they came up with ways to raise funds to buy the baby walleye with the intent that the walleye would eventually reproduce. By holding fishing contests on the lake, along with donations from many others, they were able to begin raising funds.
By October of 2000, W.L.W.A. had raised enough money to purchase 600 walleye, ranging in size from 4 to 7 inches. They purchased the walleyes from Hinckleys Hatchery in Edmonston. With the help of the students from Cobleskill College and their stocking truck, the walleye were delivered and released into Warner's lake.
After the first batch of walleye, the W.L.I.A. was kept informed of the progress and research done. The W.L.I.A. voted to help with the funding and stocking of the lake and has donated $400.00 each year for that purpose. This donation was very helpful in making the following years very successful.
The W.L.W.A. began to mark their calendars for the three ice fishing contests they were going to have, for pickerel. A summer carp contest was also held which included raffles and a 50/50 drawing to generate funds.
In the year 2000, 560 walleye were released, followed by 1360 in 2001. Due to the increase in quantity purchased, the hatchery was required to make the delivery. In October of 2002, 1360 walleye were purchased and released, followed by 1400 in 2003.
Through out the fishing season, the results of the stocking program have been proven positive when walleyes are pulled from the lake and returned, of various sizes, showing the growth from the previous years of stocking. The success of this program is due to all the people who gave of their time and donations to benefit Warner's Lake for many years to come.