Rensselaerville Presbyterian Church
From Helderberg Hilltowns of Albany County, NY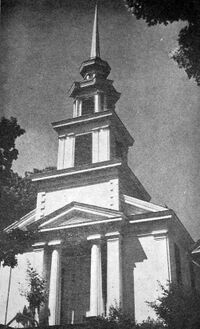 Location
The Rensselaerville Presbyterian Church is located on Methodist Hill Rd in the hamlet of Rensselaerville. Services are still held, but only on Sunday's during the summer.[1]
History
The First Presbyterian or Congregational Society of Rensselaerville was organized December 3, 1792. The first worship services were held in an old log building two miles southwest of the hamlet. The chimney was taken out and a rude excuse for a pulpit was put in. The Patroon, Stephen Van Rensselaer III, made liberal donations of glass, nails and other building materials.[2]
In the summer of 1796, a new building was erected. On June 15th the frame was raised, and on September 11th the first service was held there. The site chosen was a hill top about two miles southwest of the present hamlet. The church did not have a steeple, tower or bell but had a pulpit. Between 1810 and 1818, there were times preaching was not done and this caused a drop in attendance. During those years, the population on the hill decreased while the hamlet grew.[2]
It became evident to people that they must leave the pleasant site their fathers chose for the church and move the buildings down to the valley. A lot was chosen and the building was removed to the present location where it is known as the Rensselaerville Academy and was dedicated on September 10, 1815. The old pulpit and deacon's seat was put in, and a belfry or tower was added. The steeple was of the old regulation New England pattern, with an octagon open belfry, a tall shingled roof and above the mast running up several feet, and crowned with a most ornate ornament of iron, and a spire with a gilt ball just above the points of the compass, then the weather vane, a gild codfish, and on the very highest point a sheet iron basket of flowers, on whose gilted surface the sun shone so that it might be seen from a great distance.[2]
In January 1827, the church under the pastorate of Rev. Smith, united itself with the Presbytery of Albany. At this time people once more took up the question of a church building and decided to move to make way for a school building. Thus, the building was altered in to the Rensselaerville Academy. In the summer of 1842, work began on the new church and was completed in 1843, and by December services were being held.[2]

Sources