Posson, William Henry Harrison
From Helderberg Hilltowns of Albany County, NY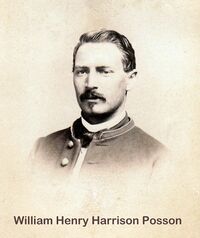 Birth
Born: 24 October 1840, Gallupville, Wright, Schoharie Co., New York
Baptised: 6 December 1841, Schoharie Reformed Church, Schoharie, Schoharie Co., New York
Father: William Posson[1]
Mother: Mary Catharine Becker[1]
Military Service
| | |
| --- | --- |
| Name: | William Posson [Passon] |
| Residence: | Rockford, Illinois |
| Enlistment Date: | 17 September 1861 |
| Enlistment Place: | |
| Enlistment Rank: | Private |
| State Served: | Illinois |
| Regiment: | 45th Infantry |
| Company: | G |
| Muster Out Date: | 3 January 1864 |
| Re-Enlistment Date: | 4 January 1864 |
| Re-Enlistment Place: | |
| Re-Enlistment Rank: | Private |
| Muster Out Date: | 12 July 1865 |
| Muster Out Place: | Louisville, Kentucky |
Additional Remarks: He originally filed for his Civil War pension on April 25, 1890. His widow Mary filed for his pension on February 28, 1906.
Sources Used: William H. Posson pension application file, certificate #654,323; Civil War Pension Index, Ancestry.com
Occupation
Upon moving to West Berne after the Civil War, William purchased and ran a general store until his death. After his death, his son Fred Posson took over the store.
Marriage & Children
Married: Mary Zimmer, 22 October 1868, Gallupville, Wright, Schoharie Co., New York[1]
Children:
Azetta Posson, b. 30 November 1869, m. Sidney Bellinger , d. 4 July 1948
Fred Posson, b. 28 March 1871, West Berne, Albany Co., New York, m. Cora Briggs[1] , d. 18 March 1954
Elda Posson, b. 24 February 1873[1] , m. Marcus Clowe, d. 29 September 1936
Lloyd Posson, b. 5 March 1875[1] , m. Jennie Steiner, d. 28 May 1956
Death
Died: 2 February 1906, West Berne, Albany Co., New York[1]

Buried: Beaverdam Cemetery, Berne, Albany Co., New York[1]
Obituary
On Friday evening the people of the vicinity were shocked at hearing the sand intelligence concerning the sudden death of our highly esteemed citizen, William H. Posson. The deceased was a lifelong member of the Dutch Reformed church. He was an active participant in all church affairs and was honored by holding many important positions in the church. He saw four years of active service in the civil war. He was a member of Charles McCulloch post, No. 645 G.A.R. The confidence reposed in him by that fraternity is evidently seen when we but consider his recent installation as commander of that post for the third time. His wise counsel and advice will be greatly missed by all the members. His cheerfulness vanished all cares and discontent smoothed and composed the passion and kept the soul of him, who had the grand opportunity to contact with his buoyant disposition, in a perpetual calm. He so lived that he was very dear to the people and in such a manner that we may justly compare him to the sun of a system, beaming warmth and gladness to every heart. He was a true representative of that class of men who try to make the world better by having lived in it, and his endeavors were not in vain. The loss sustained by the young men, with whom he was a great favorite can never be replaced, but we all have one consolation in knowing that the kind words that he has spoken to us can never die but will perpetuate his name to posterity, while he has departed to receive the noble reward which his Heavenly Father has prepared for him. He is survived by a wife; two daughters; two sons and a legion of friends to mourn their loss. The obsequies were conducted by the Rev. DeGraff. G.W. Mattice, undertaker.
Note: NOT listed in Annual Report of the Adjutant-General of the State of New York for the Year 1900 in the 45th because was in the Illinois 45th!
Gallery
Possonstore1925.jpg

Posson store 1925
---
Sources