Palombo, Harry N.
From Helderberg Hilltowns of Albany County, NY
Birth
Harry N. Palombo was born, the son of John and Nancy Palombo. His siblings were:
Nicholas Palombo of Schenectady
Frances Steele of Schenectady
Arthur J. Palombo of San Francisco
Edna L. Smith of Schenectady
Frank Palombo
Vincent Palombo
Dorothy Pintavalle
Pauline Ricci
Education
Occupation
Marriage & Children
Harry N. Palombo married first Leona M. Megenthaler. Their children were:
Harry Palombo married next Delia Barnish Palombo, the sister of Richard A. Barnish of Knox and Francis E. Barnish of Knox
Death
Harry N. Palombo of Township Road died June 5, 1981.
Obituary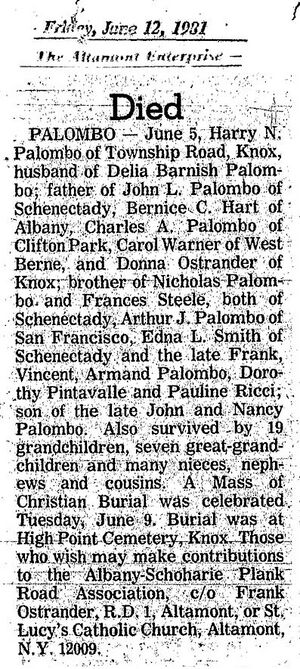 Died
PALOMBO - June 5, (1981) Harry N. Palombo of Township Road, Knox, husband of Delia Barnish Palombo; father of John L. Palombo of Schenectady, Bernice C. Hart of Albany, Charles A. Palombo of Clifton Park, Carol Warner of West Berne, and Donna Ostrander of Knox, brother of Nicholas Palombo and Frances Steele, both of Schenectady, Arthur J. Palombo of San Francisco,. Edna L. Smith of Schenectady and the late Frank, Vincent, Armand Palombo, Dorothy Pintavalle and Pauline Ricci; son of the late John and Nancy Palombo. Also survived by 19 grandchildren, seven great-grandchildren and many nieces, nephews and cousins. A Mass of Christian Burial was celebrated Tuesday June 9. Burial was at High Point Cemetery, Knox. THose who wish may make contributions, to the Albany-Schoharie Plank Road Association, c/o Frank Ostrander, R.D. 1, Altamont, or St. Lucy's Catholic Church, Altamont, N.Y. 12009.
Altamont Enterprise - June 12, 1981
Additional Media
West Township
DAVIGNON - PALOMBO
The marriage of Miss Donna Mae Palombo, daughter of Harry Palombo, Township, and Mrs. Gordon Trottor of Knox, to Walter Davignon, son of Mr, and Mrs. William Davignon of Schenectady, took place last Sunday at the St. Madeleine Sophie Catholic church, Schenectady. Rev. Francis Woods officiated at the double ring ceremony. A reception for 200 guests followed at Endries Willowbrook Inn.
Escorted by her father, the bride had as her matron of honor her sister, Mrs. Bernadine Gadbout. Bridesmaids were Miss Kathy Mitchell of East Berne and Miss Barbara Rosata of Schenectady. Miss Christie Lee Palombo, niece of the bride, was flower girl.
Thomas Myslinski was best man. Ushers were Stanley Myslinski and Richard Muth. Ring bearer was Robert Berrian. Mr. and Mrs. Davignon left on a trip to Schroon Lake and Montreal, Canada. They will reside in Schenectady.
Altamont Enterprise - February 3, 1961
Sources
---