Newberry, John S.
From Helderberg Hilltowns of Albany County, NY
Birth
John S. Newberry was born in about 1823 to John Newberry (B. abt 1780, D. after 1860) and Margaret Smith[1] (B. abt 1784, D. after 1870).[2] He had a younger brother Nathaniel Newberry (B. July 10, 1826, D. Aug 14, 1871).[2] In many of the records his surname is spelled "Newbery".
Marriage & Children
John married a woman named Nancy J. (B. abt 1843, D. after 1880).[3]
Military Service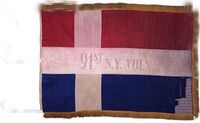 | | |
| --- | --- |
| Name: | John Newbery |
| Residence: | Berne |
| Place of Birth: | Westerlo, NY[4] |
| Date of Birth: | 12 Feb 1824[4] |
| Names of Parents: | John (Newberry) and Margaret Smith[4] |
| Term of Enlistment: | 3 years[4] |
| Bounty Received: | None[4] |
| Enlistment Date: | 31 Oct 1861 |
| Enlistment Place: | Albany, New York |
| Enlistment Rank: | Private |
| State Served: | New York |
| Regiment: | 91st Infantry |
| Company: | Company D |
| Reenlisted: | 1 January 1864 |
| Muster Out Place: | Absent, sick at Muster Out at Albany, NY[5] |
Additional Remarks: Soldier applied for pension in Iowa on July 1, 1890

Born in Westerlo, NY on February 12, 1824, Age 40, Farmer, Black eyes, Black hair, Dark complexion, 6' tall.[1]
Sources Used: Ancestry.com, American Civil War Soldiers and US Civil War Soldiers 1861-1865; Civil War Pension Index; 1890 Veteran's Census, Berne, Albany Co., NY; Howell, George Rogers, History of the County of Albany, NY from 1609-1886, W. W. Munsell & Co., 1886, page 817;Town and City Registers of Men Who Served in the Civil War, Annual Report of the Adjutant General of the State of New York
Life
By 1880, John S. Newberry is living in Junction Twp, Greene Co, Iowa with his wife Nancy.[3] He is working as a laborer and no children are recorded with the couple.[3] Ten years later John applies for his Civil War pension from Iowa.[6] However by 1906 he is back living in Steuben County, NY. [7]
Death
John S. Newberry died after May 11, 1906 perhaps in Steuben County, NY.[7]
John died on November 26, 1906 [8] and was buried at the Westerlo Rural Cemetery in Westerlo, NY.
Obituary
Additional Research Notes
From The Altamont Enterprise (Altamont, NY), May 11, 1906
John Newberry, uncle of Mrs. M.F. Barber, from Steuben Co., is spending a few days at the Barber residence. Mr. Newberry is a veteran of the civil war, 83 years of age, and is hale and hearty for a man of his years. The Mr. Newberry on the police force at Albany is a nephew of the old soldier.
Note: Mrs. M.F. Barber mentioned in the above article was Ruth Emma Newberry (B. 1853, D. after April 4, 1930), the daughter of Nathaniel Newberry and Christina Wright, and the wife of Morgan F. Barber.
Additional Media
JohnNewberry05111906.jpg

News Clipping

Sources
↑ Annual Report of the Adjutant General of the State of New York
↑ Civil War Pension Index, Ancestry.com
↑ 7.0 7.1 The Altamont Enterprise, Altamont, NY May 11, 1906
↑ Civil War Pension Records @ Fold3.com