McNary, Joseph Addison
From Helderberg Hilltowns of Albany County, NY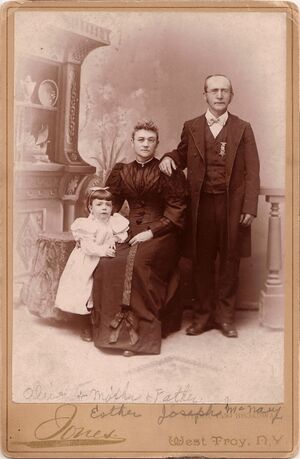 Birth
Joseph A. McNARY was born 13 Jun 1842 in Berne, Albany County, NY to Elijah McNary (B. abt 1817, D. 1896) and Sally Martha Barton (B. abt 1817, D. abt 1869).[1] He was one of eight children.[1]
Military Service
| | |
| --- | --- |
| Residence: | Albany, NY |
| Enlistment Date: | 22 April 1861 at the age of 18 |
| Enlistment Place: | Troy, NY |
| Enlistment Rank: | Private |
| State Served: | New York |
| Regiment: | 3rd Infantry |
| Company: | Company F |
| Discharged for disability: | 9 June 1862 |
| Muster Out Place: | Ft. McHenry, Baltimore, Md. |
| Enlistment Date: | 19 Dec 1864 |
| Regiment: | 2nd Veterans Reserve Corps |
| Company: | Company K |
Additional Remarks: On Dec 9, 1864 enlisted for 3 years in the Veterans Reserve Corps but spent about a year of that time at the Military Hospital in Troy.
Sources Used: Ancestry.com, American Civil War Soldiers; GAR verification of service; CW pension application.
Military Resume
Joseph McNary enlisted as a Private in the Civil War on 22 April 1861 at the age of 18 and reported for duty with Company F, 3rd Infantry Regiment, New York under the command of Col. Frederick Townsend. The 3d, organized at Albany, was known as the 1st Albany regiment.
On or about April 1, 1862, Joseph began to experience symptoms of Typhoid Fever and was treated on site. His condition worsened and on June 6, 1862 was transferred to the hospital at Baltimore. He received a disability discharge from Company F, 3rd Infantry Regiment New York on 9 Jun 1862 and returned to Albany. On December 19, 1864 Joseph enlisted in the 2nd Veterans Reserve Corps.
Joseph applied for and received a pension for his service on October 4, 1877.
After Joseph's return from the war, his younger brother Edwin McNary enlisted in the 11th NY Light Artillery Regiment in August of 1864.
Marriage and Children
In about 1863 in Troy, Rensselaer County, NY, Joseph married Esther C. Tolhurst, who was born on February 20, 1843 in Horsmonden, Kent, England [1] to John and Rhoda (unknown maiden name, probably Wellington) Tolhurst.
Joseph and Esther had the following children:
Charles McNary (B. May 1864, D. 1929)[1]
Joseph Edwin McNary (B. Dec 15, 1868, D. May 22, 1943)[1]
James Wellington McNary (b. 4 Aug 1870, d. 17 Mar 1913)
Walter Addison McNary (b.1872, d. 14 Nov 1904)
Rhoda Elizabeth McNary (B. Apr 26, 1878, D. Dec 22, 1918)[1]
Olive Tolhurst McNary (b. Aug 24, 1889, d.1990 )
Robert J. McNary (b.Sept 1889, d. 9 Apr 1890)
Joseph-A-McNary-&-Family.jpg

Joseph and his family taken at about 1892
G.A.R. Involvement
Joseph was very proud of both his Civil War service, and his subsequent membership and participation in the encampments of the G.A.R..
Joseph-GAR.jpg

Joseph with his GAR unit in Troy, NY
Death
Joseph died after a long illness from acute tuberculosis on December 13, 1903 at the age 61 years. He was buried in Albany Rural Cemetery, Menands, Albany Co., NY. On December 16, 1903 his widow applied for and received benefits until her death on May 14, 1934.
Obituary
THE ALBANY EVENING JOURNAL, TUESDAY, DECEMBER 15, 1903
McNARY-Watervliet, NY, Dec 13, 1903 Joseph McNary, aged 61 years. Funeral services from residence, 1345 Third avenue, Wednesday, Dec. 16, at 3 pm. Friends are invited to attend. Interment at Albany Rural Cemetery.
Additional Media
Sources
---