Lucky day in Knox, the bar's now open
From Helderberg Hilltowns of Albany County, NY
20040916 Township Tavern Article.pdf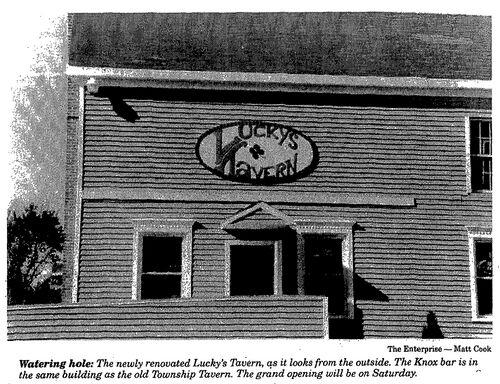 Lucky day in Knox, the bar's now open
By Matt Cook
KNOX—A local watering hole which almost dried up has been revitalized and its proprietors hope it will become,, a central meeting spot for area residents.
"We want to be a community bar," said Rita Meyers, manager of Lucky's Tavern, "a nice place that people can go and hang out."
Meyers was a regular at the old Townshi p Tavern , on Township Road in Knox, when it shut down about two years ago. Hoping to keep the place running, she told the owner she was interested in taking over. Her plan was to rent the bar, but when she shared her idea with her brother Owen Rivenburgh, he said he would buy it instead.
His concern was, what happens if the previous owner sells it to someone else? Meyers said. When asked why he wanted to own a bar, Rivenburgh said, "To tell you the truth, I don't know." He said the bar is an investment for him.
Lucky's Tavern opened for business on Aug. 18 and there has already been a steady stream of customers.
"We're doing very well," Meyers said.
Last Friday afternoon, when Rivenburgh and Meyers me t with The Enterprise, five or six people sat at the bar and a few more were coming in. The tavern was gearing up for the afterwork crowd.
The 19th-century building has been sheathed in tan vinyl siding.
Inside, Lucky's Tavernha s a completely renovated and expanded interior. Rivenburgh and his family did most of the work themselves.
"It's been a lot of work," he said.
The floor was a big part of the effort, as Rivenburgh had to tear up the old one and put it in a new one—including a black-and white tile dance floor in the back room.
"The floors were really not leveled at all," Rivenburgh said.
Unlike its predecessor, Lucky's Tavern is licensed to serve hard liquor as well as beer, and soon food will also be available.
"Unfortunately, we don't have a kitchen yet," Meyers said, but one is m the works.
The family also installed a DJ booth at one end of the dance floor. Meyers said her son, Stephen, will be manning the turntable s on Frida y an d Saturday nights. Also, "We have some lives bands scheduled," Meyers said.
The tavern's grand opening on Sept. 18 will feature the Berne band Midlife Crisis.
In addition to the music, the dancing, and the drinking, there's plenty else at Lucky's Tavern to occupy its patrons.
"There's enough activities in this bar to keep people busy," Meyers said.
The tavern has a pool table, two dart boards, and a shuffle board table. Sign-up for league play is starting now. Meyers said there will be three or four league - play seasons each year, with trophies going to the winners.
"It'll be a lot of fun," she said.
Lucky's Tavern is located on 1412 Township Rd., Knox, and is open seven days a week. The grand opening is Saturday, Sept. 18. Midlife Crisis will play from 10p.m.. to 2 a.m.
The Altamont Enterprise - September 16, 2004