July 18, 1862 - Authorization to enroll volunteers
From Helderberg Hilltowns of Albany County, NY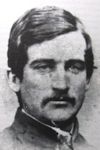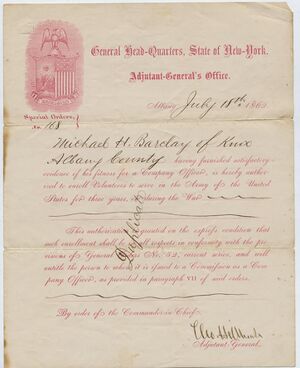 General Head-Quarters, State of New-York
Adjutant-General's Office
Albany, July 18th, 1862
Special Orders No. 168
Michael H. Barclay of Knox Albany County having furnished satisfactory evidence of his fitness for a Company Officer, is hereby authorized to enroll Volunteers to serve in the Army of the United States for three years, or during the War.
This authorization is granted on the express condition that such enrollment shall be in all respects in conformity with the provisions of General Orders No. 52, current series, and will entitle the person to when it is issued to a Commission as a Company Officer, as provided in paragraph VII of said orders.
By order of the Commander in Chief
????????????
Adjutant General