Ball, Eve Ann
From Helderberg Hilltowns of Albany County, NY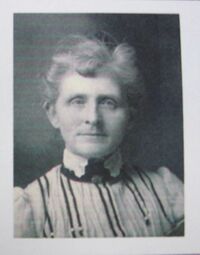 Birth
Eve Ann Ball was born on May 7, 1852 at the Ball farm on Switzkill Road, Town of Berne, Albany County, NY. Her parents were Robert Ball (1809-1893) and Anna Barbara Deitz (1815-1897). She grew up on the Ball farm with several siblings.
Education
She probably attended school No. 14 attached to the Ball farm at the corner of Switzkill Rd. and Ravine Rd. She wrote her name on several contracts with her father Robert and brother Charles E. Ball.
Occupation
She was a housewife.
Marriage & Children
Eve Ann Ball married Albert Gibbs(Apr 1, 1855-Mar 4, 1897) from the Town of Wright, Schoharie County, NY on Oct 17, 1877. His parents were James Gibbs (1812-1898) and Eva Ester Engle (1824-1899). His sister Ida Gibbs was the wife of Stanton Sholtes of the Rock Rd. Sholtes farm.-- Robert Ball sold/gave his daughter Eve Ann Gibbs, wife of Albert on Sept. 18, 1885 "1 acre , center of highway leading through Switzkill, near Robert Ball's house, Berne." The house on that acre was known as the Albert Gibbs house. Later, it became the Clyde L. Ball house. In 1900, on the day Charles, Minnie, Clyde (with a friend), and Hazel moved their goods and livestock from Knox to occupy the former Robert Ball farm, "Aunt Eve Ann served them a large dinner in her house when they arrived", per Clyde L. Ball.-- Robert Ball entered into a one year contract with Albert Gibbs on November 17, 1888 giving him possession of his farm, stock, fixtures, and implements in exchange for the care of Robert and wife, Anna Barbara, and one hundred dollars. -- Charles Ball (Executor of the farm of Robert Ball)and Eve Ann Gibbs (a yr. after Albert died) entered into a one year contract in April 1898 for the 104 acre farm on Switzkill Rd. for one hundred and twenty dollars, and requirement to sow seed for spring and fall crops.-- This marriage gave birth to years of the Ball-Gibbs Reunion at the Hill & Dale Farm of Harry Gibbs in Pleasant Valley, Town of Knox. Eve Ann Ball and Albert Gibbs had the following children:
Floyd Eugene Gibbs-b.4 Mar 1879-d. 24 Dec 1879. He worked for the Town of Knox as Highway Superintendent, Deputy Sheriff,& Justice of the Peace. He married Minnie Harriet Mattice on 22 Feb, 1899. They had children; Rachael Mcmillen (1900-1979), Albert Ira Gibbs (1902-1991).
Cortland Palmer Gibbs-b. 21 May 1881-d.?. He married Julia Emma Van Woemer abt. 1900. They had 2 children; Susan E. Oliver(1903-1993), and Elizabeth W. Eldred (1905-1983).
Franklin J. Gibbs-b. 30 Jun 1885-d. 20 Aug 1886.
Anna B. Gibbs -b. 4 Nov 1886-d. 20 Oct 1979.She was a homemaker.She married farmer Henry Alson Miller (1876-1965) on 31 Jun 1905 at Town of Berne. They had 2 children; Hubert Henry Miller (1906-2001 and Chester Alson Miller (1908-1974).
Harrison Benjamin (Harry) Gibbs-b. 4 Nov 1888-d. 9 Aug 1975.He was a farmer. He married Vertie Clow (1893 -1995) on 22 Mar, 1913. They had 5 children; Betty Jane Gibbs, Francis C. Gibbs(1914-1984), Alton H. Gibbs (1918-2001), Eunice O'donnell (1919-1966),and James Gibbs (1922-1965).
Ethel May Gibbs-b. 6 Nov 1890-d. 31 May 1989. She was a homemaker and an active member in St. Paul's Lutheran Ch. in Berne. She married Charles Mc Dermott (1881-1950) abt. 1915 at Town of Knox, Albany County, NY. They had 3 children; Alton Gibbs (1918-2001), Eunice O'donnell(1919-1966), and James Gibbs(1922-1965).
Robie J. Gibbs-b. 20 Mar 1893-d. 28 Apr 1894).
Eve Ann Ball Gibbs married Asa Edgar Swart (12 Mar 1854-1937)from West Mountain abt. 1904. He was buried at the West Mountain Methodist-Episcopal Church Cemetery in 1937. They had no children.
Death
Eve Ann (Ball) Gibbs died on September 24, 1908. She was buried at the Berne- Beaverdam Cemetery.
Obituary
Additional Media
Sources
---