April 22, 1886 - Casualty Sheet
From Helderberg Hilltowns of Albany County, NY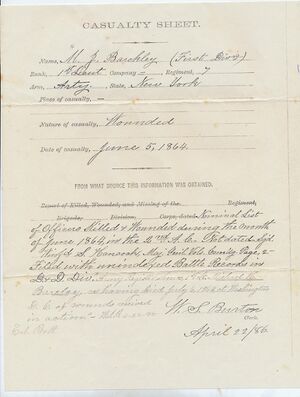 Casualty Sheet
Name, M. J. Barckley (First Divn)
Rank, 1st Lieut, Company -, Regiment 7
Arm, Arty, State, New York
Place of Casualty, -
Nature of casualty, Wounded
Date of Casualty, June 5, 1864.
From What Source This Information Was Obtained
Nominal List Of Officers Killed and Wounded during the month of June 1864, in the 2nd A. C. Not dated, Sg'd Winfd S. Hancock, May, Gen'l Vols. Com'dg. Page 2- Filed with unindexed Battle Records in D. + D. Div.* Army Register shows 1st Lt. Michael H. Barclay as having Died July 6, 1846 at Washington, D. C. of wounds received in action." W. S. B. 4-22-86
Ext. B+W.
W. S. Burton, Clerk
April 22/86