Wagoner, Francis
From Helderberg Hilltowns of Albany County, NY
Birth
Francis Wagoner was born in January of 1838[1] to Elias Waggoner and Sally Ann Willsey.[2][3][4][5][6] He had a brother Moses Wagoner.
Marriage & Children
Between 1865 and 1867, he married a woman named Mary (B. May 1839[1] , D. Sept 24, 1909[7]).[8] They had several children:
Military Service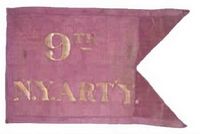 | | |
| --- | --- |
| Name: | Francis Wagner |
| Residence: | Westerlo |
| Enlistment Date: | 1 Sept 1864[12] |
| Enlistment Place: | Albany, New York |
| Enlistment Rank: | Private[12] |
| State Served: | New York |
| Regiment: | 9th Heavy Artillery[12][6] |
| Company: | Company A[12] |
| Wounded in Action on: | 19 Oct 1864 shot in back |
| Wounded at: | Cedar Creek, VA |
| Discharged for Disability on: | 15 June 1865[12] |
| Discharged at: | Mower General Hospital, Philadelphia, PA |
Additional Remarks: Enlisted at the age of 26. AKA Wagoner, Francis. Francis was shot in the back and discharged as a result.[12] Francis was wounded in his hip.[6] He filed for an invalid pension on February 8, 1866.[13] His brother Moses Wagoner also served in the Civil War.
Sources Used: 1860 census, Westerlo; 1865 census Berne, Albany Co., NY; Ancestry.com, American Civil War Soldiers; Annual Report of the Adjutant-General for the State of NY for the year 1897; 1890 US Veterans Census, Rotterdam, Schenectady Co, NY;
Life
After their marriage, Francis and Mary first lived in Bethlehem, Albany County with their two young children, where Francis and his brother Moses appear to have worked for Jacob Waley and his son Joseph, who were well to do farmers.[8] By 1880 Francis and his young family had moved to Watervliet, Albany County, NY where he was working as a laborer.[10] In 1890, they were living in Haynes near Rotterdam, Schenectady County, where Francis' brother Moses was living a couple of houses away.[12] The 1900 US Census recorded that also living near Francis was his brother James Henry Wagoner as well as Orville Wagoner.[1] In 1900 Francis and Mary had a large group living with them who included their son Francis Wagoner Jr., his wife and young son as well as their son Archie and a Walter S. Wilty (B. Aug 1884).[1] At Christmas in 1905, Francis and his wife Mary spent it at their daughter's home with her husband Charles VanWie.[14] In early February 1911, Francis' grandson Roy Wagoner was spending time at Francis' home in Dunnsville.[15]
Death
Francis' wife Mary died on September 24, 1909 at her home "after many weeks of intense suffering".[7] Francis died after February 10, 1911 when he was still living in Dunsville, Albany County, NY.[15] Francis is probably buried at Vale Cemetery in Schenectady with his wife. Note: Dunnsville was located in Guilderland at the corner of Rt. 156 and Rt. 20.
Obituary
Altamont Enterprise October 1, 1909 "Mrs. Francis Wagoner died on Friday Sept 24, 1909 after many weeks of intense suffering, aged 69 years 1 month 9 days. The funeral was held from her late home Monday, Rev. J. L. Stillwell officiating. Interment in Vale Cemetery, Schenectady. Mrs. Wagoner is survived by her husband, three sons Armson E., Charles W. and Archie B. and one daughter Louetta wife of Charles VanWie. Mrs. Wagoner was an earnest Christian woman and when the summons came she was ready and willing to bid adieu to earthly trials and sorrows to be forever with her Lord."
Additional Research Notes
Pieces related to Francis Wagoner and his extended family:
"Wagoner-Wilty-At Guilderland Centre July 24, 1895 by Rev E. ??ttman, Mr. Francis Wagoner of Schenectady to Mrs. Minnie Wilty of Gallupville"
"Mrs. Orville Wagoner went to Coxsackie on Saturday for a visit among friend. Strawberries are reipening on Tuesday Armson Wagoner sent 16 qts to market. Mrs. W. Patridge and son of city of Watervliet is visiting at Francis Wagoners."
Miss Minnie Armstrong accompanied her sister Mrs. Orville Wagoner for a visit."
"Mr. and Mrs. Francis Wagoner spent Sunday with their daughter Mrs. Charles VanWie at Dunnsville."
"Charles VanWie and wife entertained the following relatives at Christmas dinner; Francis Wagoner, wife and son Archie, Frederick VanWie and wife, Daniel VanWie, Garret Oliver and wife of Bethlehem and Howard Lagrange. The combined ages of the four grandparents of Milton and Russell VanWie who were present equaled 300 years."
"George W. Partridge of Watervliet is spending a short time at Francis Wagoners. Roy H. Wagoner of Carman who has been spending some time here with relatives has returned home. Miss Florence Partridge and Miss Minnie Groner of Watervliet have been spending a couple of weeks at Charles Van Wies. Mrs. Garret Oliver and daughter lizzie visitited Mrs. Oliver's parents Frederick Van Wie and wife this week. Armison E. Wagonr and family, Charles W. Wagoner and family of Carman and Charles Van Wie and family were guests of Francis Wagoner and wife Sunday."
"Roy Wagoner of Carman is spendig a little time with his grandfather Francis Wagoner."
Additional Media

Sources