Trinity Episcopal Church
From Helderberg Hilltowns of Albany County, NY
Location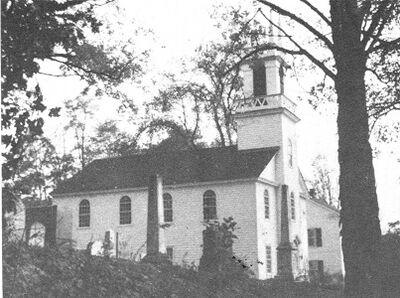 The Trinity Episcopal Church is located on Albany Hill Rd at the intersection of Main St. in the hamlet of Rensselaerville. It is an active church and the only active church remaining of the four churches in the hamlet of Rensselaerville.
History
The first Episcopal service in Rensselaerville was held October 21, 1810, at the home of Charles Preston, Esq. near Ten Mile Creek and was conducted by Rev. Samuel Fuller a former Presbyterian minister. The house now known as the Mill House is now owned by the Edmund Niles Huyck Preserve. From the spring of 1811 to the fall of 1812, services were conducted in the home of Rufus Watson and it was there on February 20, 1811, Rev. Fuller organized the Trinity Episcopal Church. At the Easter meeting the following spring a committee of five were appointed to solicit subscriptions toward the building of a church.
During the winter of 1812, meetings were held in the Old District Schoolhouse where the first communion was held on November 15, 1812. In the spring of 1813, the congregation returned to Watson's and services were continued there until the church was completed in the fall of 1815. For fifteen years the church was the only Episcopal church in the County of Albany outside of the city itself.[1].
Church Cemetery
Trinity Episcopal Church Cemetery is located on the church grounds.
Photo Gallery
</gallery>
Sources