September 23, ???? - Letter to M. H. from G. H. Q.
From Helderberg Hilltowns of Albany County, NY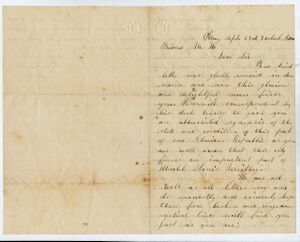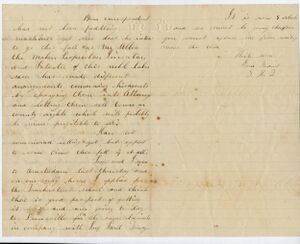 Knox, Sept. 23d 7 oclock A.M.
Friend M. H.
Dear Sir
Your kind letter was gladly received in due season and now this glorious and delightful man (main?) finds your Knoxville correspondent by his desk trying to give you an abbreviated synopsis of the state and condition of this part of our Glorious Republic as you are well aware that this city forms (farms?) an important part of Uncle Sam's Territory:
We are all well as all letters say and do earnestly and sincerely hope these few broken and ungrammatical lines will find you just as your are:
Your correspondent has not been peddling machines yet nor does he intend to go this fall as Mr. All the Maker, Proprietor, Inventor, and Patentee of this noble labor saver has made different arrangements concerning his agents by changing them into Attorneys and letting the sell town and county rights which will probably be more profitable to all:
Have not commenced selling yet but expect to some time this fall if at all.
Prof. and I were to Amsterdam last Thursday and on our way home I applied for the Quakerstreet school and think there is a good prospect of getting it and am going today to Dunnsville on the same business in company with Prof. Paul Quay.
It is now 9 o'clock and we must be going therefore you must excuse me from wring more this time.
Write soon
Your Friend
G. H. Q.
Note: Letter may be to Michael Henry Barckley (M. H.) from George H Quay (G. H. Q.) of Knox.