O'Hanlon, Betty - Stories
From Helderberg Hilltowns of Albany County, NY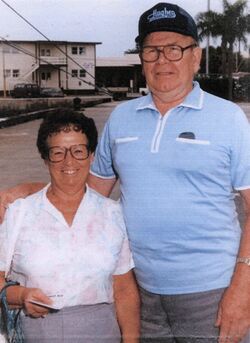 Betty O'Hanlon - Stories
Just getting this place was a joke. In 1955, Dave sold auto parts and Ted Quay from Quay's garage, told him this place was for sale and that he should go look at it. Dave and I came out the next weekend to look the place over. At that time it was owned by John Cocca who had bought it from George Vunck. We had no experience in that kind of business, but we ended up with it anyway.
In the early days, we only lived here in the summer and then back to Rensselaer for the rest of the year. After we had been here awhile, my children complained that they never had a vacation; they were stuck here at the lake all summer. After they got bigger, they helped out a lot, working as cashiers, lifeguards, taking care of the grounds and many other small jobs.
We finally decided to move here in the early 60ties. Dave had to do a lot of work beforehand. The upstairs wasn't finished at all. It contained several bedrooms separated only by partitions with no ceilings or finished floors. There were 7 bedrooms as I recall and a bathroom. The bathroom was the biggest one I had ever seen. It took quite a while to finish the alterations and make it livable.
At that time we had swimming and a picnic grove. The building was like a big hot dog stand with an ice cream counter along the front. I believe we had 17 flavors of ice cream at that time. During the first year we were here, friends would come out from the city to help us. My friend Marie took over the soda fountain, and on one busy Sunday, she scooped over 600 ice cream cones. Her arms were so swollen that she could hardly move. What are friends for?
During those early years, my mother's sister would come out to watch Patti while we all worked. I don't know what we would have done without her. My mother-in law came out a little bit too, but this was when Patti was a little older, and she was too much for her to take. Patti was like a fish in the water, and could swim from the dock to the swimming area, under water. This drove my mother-in-law berserk.
Later in the sixties, we took out the ice cream and soda fountain, and where we served hot dogs and sandwiches, we made into a bar. At that time, we went from just a beer license to a liquor license.
In the late fifties, the road was still located between our business and the lake. There was quite a drop off along the edge of the road, so they would use either trees or telephone poles as a guardrail to keep cars from going into the lake. I believe it was the early 60ties that Dave asked the town board to change the location of the road to where it is now.
When we bought the property in 1955, there was a large open-air dance pavilion. We continued the dancing for a while, but it wasn't too successful. Then we decided to try movies on Saturday nights. We did that for a couple of years, but that too was not very successful, so we eventually tore the pavilion down, and used the lumber to build the two camps that are still here today. Eventually we put in a boat launch and built some docks that could be rented. We only did that for 2 or 3 years. We tried lots of different things. I remember when we had race night on Wednesdays. The TV would show the harness races from Saratoga, and people would sit around at the tables and do their own betting.
Once a week the boys and girls from the Camp Orinsekwa would walk over thru the woods, for ice cream and whatever. Dave would make them count off, so they each had a number, and that was the order in which they were served, otherwise they all wanted to be taken care of at once. I remember the loudspeaker system they used at the camp. They played reveille and taps every day plus all the daily announcements.
On certain occasions at the north end of the lake, we could hear Carl Zwicklebaur on his loud speaker, telling people how to park their cars.
We belonged to the WLIA from the time we first came here. I remember a lot of arguments about garbage pickup.
Then there was the Pine Knoll Association, at the top of the hill, from the top on down was known as slob gulch.
We closed as a business in 1982, and the place was on the market for 2 or 3 months, but in the end we sold it to our 2 daughters Mary and Patti. They remodeled it into two separate homes, which is how it is today.