Mattice, Ira
From Helderberg Hilltowns of Albany County, NY
Birth
Ira Mattice was born 14 APR 1849, in the Town of Knox, Albany, NY, the son of Bartholomew B. Mattice and Harriet Schermerhorn. His siblings were:[1]
Education
Occupation
Marriage & Children
Ira Mattice married 4 OCT 1876, in the Town of Berne, Albany, NY, Eliza Catherine Salsburgh. His children with Eliza were:[1]
Ira Mattice married next on 21 MAR 1886, in the Town of Berne, Albany, NY, Mary Janette Neydorff (Neydorf, Neidorff). Their children were:[1]
Death
Ira Mattice died 22 APR 1927 in the Town of Berne, Albany, NY. He was buried 25 APR 1927 in Woodlawn Cemetery, Town of Berne, Albany, NY[1]
Obituary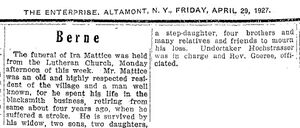 The funeral of Ira Mattice was held from the Lutheran Church, Monday afternoon of this week. Mr. Mattice was an old and highly respected resident of the village and a man well known, for he spent his. life in the blacksmith business, retiring -from same about four years ago, when he suffered a stroke. He is survived by hls widow, two sons, two daughters, a step-daughter, four brothers and, many relatives and friends to mourn his loss. Undertaker Hochstrasser was in charge and Rev. Goerse, officiated.
Altamont Enterprise - Friday, April 29, 1927
Additional Media
Berne
Died, athe tho home of her daughter, Mrs. Ira Mattice, Mrs. Neydorf, aged 79 years. The funeral was held at the house, Monday, Jan. 29th. Rev. M. L. Tate conductng the service. The deceased is survived by many relatives and friends to mourn her loss. The floral offerings from Albany friends were beautiful.
Altamont Enterprise — February 2, 1906
Sources
---