Gathen, Martha
From Helderberg Hilltowns of Albany County, NY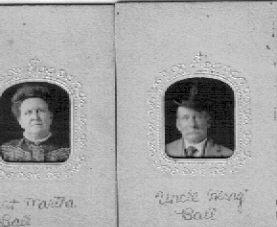 Birth
Martha Gathen was b. 8 June 1848 on Ravine Rd, West Mountain, in the town of Berne, dau. of Matthew Gathen and Sophia Resue.
Marriage and Children
She md. Henry Clay Ball. They had one child Frank A. Ball. b. 1870
Death
She died 1922 and is buried in the Trinity Episcopal Church Cemetery, Rensselaerville.