Willsey, Margaret
From Helderberg Hilltowns of Albany County, NY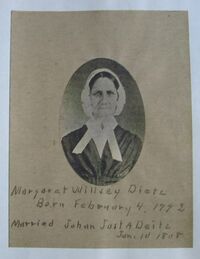 Birth
Margaret Willsey was born on 4 Feb 1792 in the Town of Berne, Albany County, NY. Her parents were Hendrick Willsey (1746-1828) and Elizabeth (Margaret) Willsey (1755-1821). They farmed lot no.500 on the Van Rensselaer Lease Map of 1787. The farm was located off Willsey Road near South Berne. She was one of three children.
Education
The extent of her education is not known at this time.
Occupation
She was a housewife.
Marriage & Children
Margaret Willsey married Johan Jost A. Dietz on January 10, 1808. They had nine children;
Sophia Dietz-b. 27 Nov 1808-d. 24 Nov 1883. She married Charles F. Holdridge(1805-1882). They had four children.
Isaac Dietz (1810)- b.22 Cec 1810-d. 3 Oct 1899. He married Maria Shufelt on 9 Feb 1831 at the Reformed Church,Berne, NY. They had four children.
Joseph Dietz- b. 16 Mar 1813-d. 22 Aug 1895. He married Sarah Powers. He married Margaret Gardiner (1822-1879) on 4 Mar 1837. They had four children.
Sabrina Dietz-b. 6 Mar 1816-d. 1882. She married Ezekiel B. Vincent (1820-1870). They had two children.
Elijah Deitz-b.29 Dec 1818-d. 10 Aug 1869. He married Nancy Mattice (1819-1859). They had five children. He married Emma B. Oliver (1839-?).
Hiram J. Deitz-b.1821-d.1893). He married Maria Shutter(1821-1894) on 30 Dec 1840. No children recorded.
Susannah Elizabeth Dietz-b.21 Jul 1828-d.1917. She married Hiram P. Filkins (1825-1906) in 1848.
Adam Henry Dietz-b. 12 Jul 1831-d. 4 Mar 1838. He was buried at the Willsey Farm Burying Ground, Berne, NY.
Harriett Malina-b. 11 Sep 1834-d. Bef 1900. She married Peter C. McIntosh (1835-1910)after 1860. They had three children. Peter was a carpenter in the army. After she died, he was living with his brother-in-law Hiram and his sister Susannah Filkins working as a carpenter.
Death
Margaret Willsey Dietz died on 5 Aug 1865. She was buried in the Dietz Farm Burying Ground off Willsey Road with her husband, Johan Jost A. Dietz, their son Isaac B. Dietz and his wife Maria Shufelt, and two grandchildren, John Dietz and Elias Dietz.
Obituary
Additional Media
Sources
---