June 6, 1864? - Letter from Edward to Michael Barckley
From Helderberg Hilltowns of Albany County, NY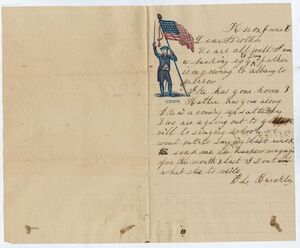 June 6, 1864? - Letter from Edward Livingston Barckley to his older brother, Michael Henry Barckley
Knox, June 6
Dearest Brother,
We are all well. I am a backing (packing?) eggs to day. father is a gowing to Albany to morrow.
Ike has gone home & Hattie has gone along. Ike is a coming up satterday & we are a going out to gallupvill to singing school. we went out to singing last week. send me the harpers magazine for this month + last. I Don't no what else to write
E. L. Barckley
---
The year is not listed on the letter. He might have written it after the family received the telegram saying Michael had been wounded.
Hattie might be his aunt Henrietta Barckley, his father Henry Barckley's sister
Edward L. Barckley was born in the town of Knox, June, 1842. He received his education in the Knox Academy. He remained at home and assisted his father in the store and on the farm, receiving thus a thorough and practical education. Years before the death of his father he assumed full control of his father's business and now owns the farm of 135 acres and store property. For many years Mr. Barckley has been prominently identified with the Republican party and is a recognized leader of that party in his town. The years of 1885, '86 and '87 he represented his town on the Board of Supervisors, in 1895 received the appointment of penitentiary commissioner and was postmaster under Harrison. In November, 1896, his party honored him with the election of treasurer of Albany county. He has often represented his district as a delegate to the County, Assembly and State Conventions. November 22, 1865, he married Miss Eunice, daughter of Alvah and Amanda (Tyler) French, and they have one child, Grace. Edward Livingston Barckley died October 3, 1905.