June 11, 1861 - Letter from Geo. H. Quay to Michael Henry Barckley
From Helderberg Hilltowns of Albany County, NY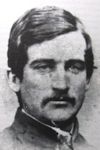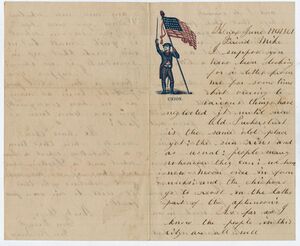 Knox June 11th 1861
Friend Mike
I suppose you have been looking for a letter from me for some time but owing to various things have neglected it until now.
Old Puckerstreet is the same old place yet: the sun rises and a usual: people marry whenever they can: we have a new moon once in four weeks: and the chickens go to roost in the latter part of the afternoon.
As far as I know the people in this city are all well and I do sincerely hope that these few broken and ungrammatical lines will find you just as you are only a little more so:
I am still going to school and expect to go till the town closes which will be four weeks from next Friday: then am going to Wastervliet?? To work in harvest:
I suppose you will be home again before I go away and then and I can tell you more in five minutes than I can write in an hour:
We have not had any more new scholars since you were here so you see our school is quite small but we can make that up in smartness if we choose:
I suppose you have a large school – probably twice as many as we consequently you can learn twice as fast:
We have three societys here this term – a debating school a law school and a Spelling school and thus if we are not good scholars after this it will be our own fault:
Write Soon
Your Friend
Geo. H. Quay.
Note: Letter to Michael Henry Barckley from George H. Quay