Dietz, Johannes
From Helderberg Hilltowns of Albany County, NY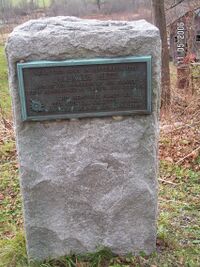 Birth
Johannes Dietz was born in Vielbach, Parish of Nordhofen, Westerwald (now Rheinland-Pflaz, Germany), son of Johann Peter Dietz and Anna Eva Becker. He was baptized 12 Sep. 1717 at the Nordhofen Parish Church.
Immigration
Johannes immigrated with his widowed mother and siblings about 1730. The family first settled in Greene County (created 1800 from Albany and Ulster Counties). Johannes and his family moved to the Switzkill Valley in 1752 and began to farm lot 476 on the 1787 Van Rensselear Survey Map.
Occupation
Johannes was a farmer.
Marriage & Children
Johannes married Anna Maria Oberbach 26 Dec. 1742 in the Katsbaan Reformed Church, Saugerties, Ulster Co., NY. Anna Maria was the daughter of Peter Oberbach and Elizabeth Stein. The Oberbach family was from Zurbach, Westerwald, near the Vielbach where the Dietz family originated. (After Anna Maria's mother Elizabeth Stein died, her father Peter Oberbach married Johannes' widowed mother Anna Eva Becker Dietz.)
Children of Joannes and Anna Maria were:
Occupation
About 1752 the family moved to Beaver Dam, where most of his siblings had previously settled. He homesteaded Lot 476 at the south end of the Switzkill Valley.
Death
Johannes Dietz and his wife Anna Maria were massacred by Indians led by a British soldier on 1 Sept. 1781. Living with them at the time were his son, Capt. William Deitz and his wife and four young children. The family of Capt. Deitz were massacred and scalped before his eyes. Capt. Dietz and two young Brice boys from Rennselaerville who were staying with the family were made prisoners and taken to western New York. Capt. Dietz died shortly thereafter as a prisoner in Fort Niagara. Johannes Dietz was a member of the Committee of Safety during the Revolution.
---
Sources The Dietz Massacre