Green, Jane Ann Mariah
From Helderberg Hilltowns of Albany County, NY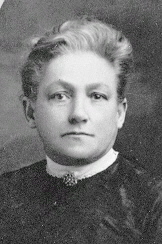 Birth
Jane Ann Mariah Green was born on March 4, 1852, in Gilbertsville, Otsego County, New York. She was at least the 4th child born to Milton and Elsie (Eley) Eymer Green. The Reinhart family Bible also lists her name as Mariah Jane Green Reinhart and another document identifies her as Jennie.
Marriage and Children
On September 28, 1867 at age 15, Jane married Peleg Reinhart. The family lived in Berne until moving to Schenectady in about 1899. According to the 1900 census, Peleg and Jane had 14 children. However, only 13 can be identified by name.
Death
Jane died on January 27, 1920, at age 67 of Nephritis. She is buried next to her husband in the family plot in Prospect Hill Cemetery, Guilderland, NY. While Jane has no marker, there is a Civil War marker for Peleg.
Additional Media
---