Hunter, Jean (Rowland)
From Helderberg Hilltowns of Albany County, NY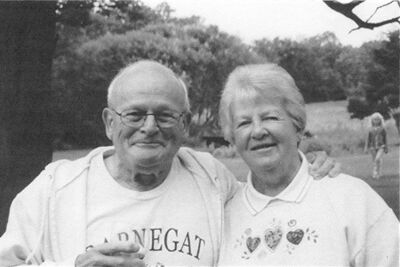 In June of 1928- yes, that long ago, I was first introduced to "the Lake" at the age of six months. My parents, Clif and Helen Rowlands, boarded at the "Big House" on Strevell Lane for their vacations every summer. Sometimes, we stayed in the green bungalows if the Big House was full. I loved to listen to the sound of the rain on the tin roof over the front porch, which was right next to our bedroom. There was no indoor plumbing in those days, but there were three outhouses as I remember. One in particular was a three-holer just off the roadway. It was green with white stripes. There was a swing-glider on the lakeside of the roadway, where you could swing while waiting your turn. And if you got thirsty while waiting, you could use the water pump in front of the bungalows for a drink out of a tin cup hanging there.
When we stayed in the Big House, my sister Carol and I slept in the alcove of the best room in the house. In each room there was a washstand for cleaning up and a "slop jar" for use as a toilet. The meals in the Big House were just great—three squares a day, cooked by Aunt Grace Strevell (in those days, everyone was an aunt or an uncle). All meals were announced by the ringing of the brass bell, and you'd better be on time. I can remember going to the smokehouse down toward the lake to bring in a ham or two for one of Aunt Grace's boiled dinners—was that ever good. Sundays were always fricassee chicken, dumplings and gravy, fresh veggies from the garden, all served family style on big long tables with green chairs (some of the chairs are still around today). Dinner was followed by homemade vanilla ice cream, made in the woodshed behind the kitchen, in the old ice cream maker, with rock salt, etc.(Harriet Hochstrasser, Grace's granddaughter, and I would gather eggs from the chicken coop for breakfast and later on we waited on tables) Friday night supper was always codfish cakes-yuk-but all other meals were fabulous.
When I was 10 or 11, around 1937 or 38, the two long green bungalows were cut up and made into camps with bathrooms and kitchens with indoor plumbing. Many very small maple trees were planted then, and some are still standing today, and HUGE. We spent many happy summers in the camp facing the lake (best view of all) and it was called Clif's Haven. During war time, we didn't get up as often from Yonkers, NY because of gas rationing, but when we were able, we went the day school closed and returned the day after Labor Day for school to open. Over the years, I stayed in almost every camp at one time or another. After my husband passed away, I spent several years in the original Hochstrasser camp. For thirteen years, I've been in the camp that was once, Zeb Strevell's "Ritz", as he called it. The Ritz was his shop where he would go to have a " snort". Aunt Grace didn't approve of drinking, so Zeb was always going to the shop to do some "paper work". He kept his "Hooch" in the filing cabinets. The Ritz was made into a dentist office for Chester Hochstrasser, who moved his practice out from Albany. It was eventually made into a camp, which I am still in today. Doc says it still smells like a dentist office when you first open the doors each spring, and recently, Doc and Sue Rockmore found some of Zeb's "old hooch bottles" when they were doing some electrical work in the attic.
I remember Zeb would take out the old Ford truck and dump the garbage up in the field by the creek, and we (all the kids) would ride along sitting in the back with the garbage at our feet, thinking it was great fun. If we were lucky, when he was done, he would take Harriet and me for a ride in the rumble seat of his "Graham"—what a treat.
Grandfather Elias Warner would move out of the Big House to make room for the summer boarders. He summered in his shed by the spring and the grape arbor. He always kept the screen doors open, because, if he closed it, the flies couldn't get out. And, oh how he dreaded it when his granddaughter, Martha Hinman Ellis came on Saturdays to make him strip, so she could give him a bath.
There were many happy times---rowing the old, heavy white rowboats that we rented from Engle's (now Osterhout's); and giving bottles of chocolate milk to Lydia and Jay's black bear; and standing there watching him guzzle it down; and listening to Lydia tell us that she had "that new ammonia" again that winter. I remember Harriet and I always being busy; helping at the Big House, swimming, hiking, picking huckleberries on Mt. Grippe; chasing muskrats off the float before everybody came out to swim; fishing and afterwards cleaning the fish; and the two of us pestering her sister Nancy (Hochstrasser Lichliter) because she was always reading, and she liked it quiet, and we were anything but! Their Mom, Helen would tell us to stop bothering Nancy, while she winked at Harriet and me as she said it. Nancy went on to become a librarian, so I guess there's a message there. We played Carom, Monopoly, and Sorry by the hour out on the front porch when it was raining; otherwise we were either in or on the lake. I remember the vegetable truck coming, and Aunt Grace standing there (after they were no longer working the farm) and picking out all the vegetables for the boarders; and the Sisson's meat wagon, the Friehofer bread truck and walking over to Chet Warner's with handled milk pails to get cream and milk for the boarding house kitchen. I also remember the pigs outside the pigpen (now used as a shop, but we still call it the "pigpen") and listening to them oink at all hours, and going to the ice house (next to the Ritz) for ice from the winter lake which was kept in sawdust.
I babysat for Judy Ellis for twenty-five cents an hour while our parents played cards and had a "few drinks" in the chicken coop, which by then had become a game room. After one such night, my father, Laurie Ellis and Gene Miller, and few others, got up the next morning and added a screen porch on the back of "Clif's Haven", which was to become my bedroom. I was probably twelve at the time and the porch slanted down from the back of the camp. As I got older, I couldn't stand up in the back part of the room. I guess they hadn't thought of that. Neither Laurie nor my Dad knew the right end of a hammer or screw driver at that time, but I guess it didn't really matter, as it was just torn down a couple of years ago when the camp was remodeled for Jeff and Kristen Rockmore. The chicken coop later went on to become a camp, which was used by my sister, Carol Merrill and is presently used by her son Michael Merrill.
"The Lake" is just such a special place---unless you've experienced it as I have over many years, you might not understand. Let me just finish by saying that I look forward to each and every summer at Warner's Lake, and can't wait to be with my "summer sisters" and the rest of the great gang, who all seem like family on Strevell Lane. But, it wouldn't be possible without my "significant other" Frank Barchi!!!