Helderberg Trail (Knox)
From Helderberg Hilltowns of Albany County, NY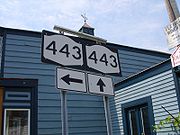 Helderberg Trail is the name of NYS Route 443 through the Helderbergs. It roughly follows a trail of the Mohawk Indians from the Hudson River to Schoharie Valley. It was probably a few years before 1787 when Stephen Van Rensselaer III had it upgraded and straightened slightly to make it accessible by wagons. Before that the settlers in the Beaver Dam as the Town of Berne is now known, had to go by way of the wagon road from Altamont, through what is now Knox, to the Schoharie Valley.
---
From Wikipedia, the free encyclopedia:
Length: 33.44 mi. (53.82 km)
Formed: Early 1970s
West end: NY 30 in Schoharie
East end: US 9W / US 20 in Albany
Counties: Schoharie, Albany
New York State Route 443 is a state highway in the Capital District of New York, United States. Route 443 begins at NY 30 in the town of Schoharie and ends at U.S. Route 9W and U.S. Route 20 in the city of Albany, spanning a distance of 33.44 miles (53.82 km). It passes through the Helderberg Mountains in the towns of Berne and New Scotland. Within the town of Bethlehem and the city of Albany, NY 443 is known as Delaware Avenue.
NY 443 was originally designated as NY 43, but the NY 43 designation was truncated to Rensselaer in the early 1970s. The portion of NY 43 west of Madison Avenue in Albany was then redesignated as NY 443. Many of the reference markers along NY 443 bear the number "43" instead.