Galie, Hercules V.
From Helderberg Hilltowns of Albany County, NY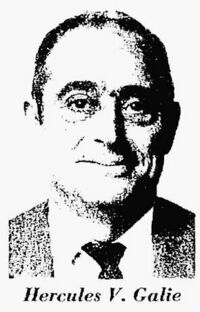 Birth
Hercules Vincent Galie was born December 17, 1912, the son of Mr. and Mrs. Frank Galie of Long Island.
Education
Military Record
Qualified Lawyer
Allied Headquarters, Rome - Pfc. Hercules V. Galie 32, is a qualified lawyer lawyer with a first class knowledge of Italian who is now assigned, to the Allied Commission in Italy as Chief Clerk.
Entering the armed forces in February, 1943, he joined Allied Military government in the following October, and landed in Italy two month later. He wears a Good Conduct ribbon and two battle participation starts on his campaign ribbon. Son of Mr. and Mrs. Frank Galie, Pfc. Galie was born in New York, and his home address is Berne R. D. 1. He completed four years of college and half a year of post graduate studies before entering the army. He is a member of the the Delta Theta Phi fraternity. He is an attorney and studied at St. John Law university. He is a member of the Albany Bar association. No less than 10 of his relatives are serving in the armed forces.
Altamont Enterprise - May 25, 1945

U.S. World War II Army Enlistment Records, 1938-1946 about Hercules V Galie
Name: Hercules V Galie
Birth Year: 1912
Race: White, citizen (White)
Nativity State or Country: New York
State of Residence: New York
County or City: Albany

Enlistment Date: 11 Feb 1943
Enlistment State: New York
Enlistment City: New York City
Branch: Branch Immaterial - Warrant Officers, USA
Branch Code: Branch Immaterial - Warrant Officers, USA
Grade: Private
Grade Code: Private
Term of Enlistment: Enlistment for the duration of the War or other
emergency, plus six months, subject to the discretion of the President
or otherwise according to law
Component: Selectees (Enlisted Men)
Source: Civil Life

Education: 4 years of college
Civil Occupation: Secretaries
Marital Status: Separated, without dependents
Height: 64
Weight: 139

U.S. Veterans Gravesites, ca.1775-2006 about Hercules V Galie

Name: Hercules V Galie
Service Info.: LT COL US AIR FORCE WORLD WAR II
Birth Date: 17 Dec 1912
Death Date: 3 Sep 1998
Cemetery: Fort Huachuca Post Cemetery
Cemetery Address: Directorate of Installation Support (Deh) Bldg 22528
Butler Road Fort Huachuca, AZ 85613
Buried At: Section 11 Site 12


Occupation
For State Senate, Dist. 9, Arizona Hercules V. Galie - Republican
Galie, a retired Air Force officer and attorney who primarily worked in legislative and administrative law, live in Sierra Vista with his wife. An Arizona resident since 1972, Galie is a World War II veteran and a native of New York, where he attended college. His Government career included work for the Immigration and Naturalization Service and the Defense Department and the Federal Aviation Administration.
Tucson Daily Citizen (Tucson, Arizona) - October 29, 1976
Marriage & Children
Hercules V. Galie married Mary Elizabeth Page on June 19, 1948, in Richmond, VA.
Miss Page is Engaged To Mr. Galie
J. Lyle Page, of Blackstone, announces the engagement of his sister, Mary Elizabeth, to Hercules V. Galie, of Washington, son of Mr. and Mrs. Frank Galie, of Long Island, N.Y.
Miss Page, who lives in Washington, attended Mary Washington College.
Mr. Galie is a graduate of St. John's Law School.
The Wedding will take place June 19 (1948) in RIchmond.
Date: Sunday, May 16, 1948 Paper: Richmond Times Dispatch (Richmond, VA)
Death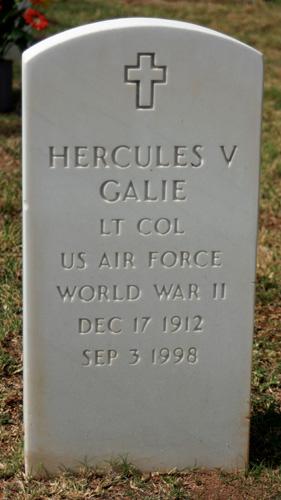 Hercules V. Galie died September 3, 1998
Hercules V. Galie
Birth: Dec. 17, 1912
Death: Sep. 3, 1998
Lt Col US Air Force World War II
Burial: Fort Huachuca Cemetery, Sierra Vista, Cochise County, Arizona, USA
Plot: 11 12
Created by: Jean
Record added: Sep 24, 2011
Find A Grave Memorial# 77041916

Obituary
Social Security
Hercules V. Galie: Social Security Death Index (SSDI) Death Record[1]

Name: Hercules V. Galie
State of Issue: District of Columbia
Date of Birth: Tuesday December 17, 1912
Date of Death: Thursday September 03, 1998
Est. Age at Death: 85 years, 8 months, 17 days
Confirmation: Verified
Last known residence:
City: Sierra Vista
County: Cochise
State: Arizona
ZIP Code: 85636
Latitude: 31.4687
Longitude: -110.1866

Census Records
1920 United States Federal Census about Hercules Galie[1]
Name: Hercules Galie
Age: 7
Birth Year: abt 1913
Birthplace: New York
Home in 1920: Manhattan Assembly District 14, New York, New York
Race: White
Gender: Male
Relation to Head of House: Son
Marital Status: Single
Father's Name: Frank Galie
Father's Birthplace: Italy
Mother's Name: Susie Galie
Mother's Birthplace: Italy
Neighbors: View others on page
Household Members:
Name Age
Frank Galie 34
Susie Galie 34
Lea Galie 8
Hercules Galie 7

Additional Media
Property in Knox has been purchased by Hercules V. Galie from Arthur J. and Eva A. Posson.
The Knickerbocker News - May 23, 1942
Border Crossings: From Canada to U.S., 1895-1956 about Hercules Vincent Galie[1]
Name: Hercules Vincent Galie
Arrival Date: 5 May 1947
Port of Arrival: Halifax, Nova Scotia, Canada
Ship Name: Aquitania
Port of Departure: Southampton, England
Age: 34
Birth Date: 17 Dec 1912
Birth Place: New York
Birth Country: USA
Gender: Male
Record Type: Manifests
Line Number: 5


Republican in Senate race
Galie to seek Davis' post
Retired attorney Hercules V. "Hec" Galie of Sierra Vista has announced his candidacy for the Republican nomination for the State Senate from District 9.
The seat now is held by Stephen A. Davis of Tucson, who recently switched his political affiliation from Republican to independent. Davis' name will appear on the Nov. 2 general election ballot.
Democrat John J. Hutton of Sierra Vista and Wayne Tangye of Tubac will be on their party's ticket in the Sept. 7 primary election.
Galie, 62, said he is running because he strongly feels the District 9 seat should be filled by a Republican. "I feel I can render a service to the Republican party and the people of this state," he said.
While he hasn't developed a campaign platform, Galie said he considers a continued policy of balanced budgets for state government to be a key issue in this election.
A deficit budget would have an adverse impact on Arizona's economy, he said.
Galie retired in 1972 after 30 years of federal government work in civil service and U.S. Air Force reserves positions. He said that experience equips him to serve in the legislature.
He was an attorney for the Federal Aviation Administration, the U.S. Immigration Service and the U.S. Department of Defense. Since coming to Arizona, he has worked as a tax and financial consultant.
A native of New York, Galie attended New York University and Queens College and received his law degree from St. John's University. He is a veteran of World War II.
District 9 covers parts of Pima, Santa Cruz and Cochise counties, running from South- east Tucson to the Mexican border.
TUCSON DAILY CITIZEN - TUESDAY, JUNE 8, 1976
Sources
---