Frantzen's Scenic Acres
From Helderberg Hilltowns of Albany County, NY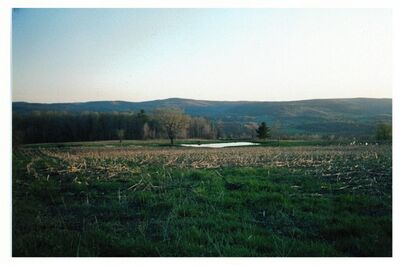 Owners
Frantzen's Scenic Acres is owned and operated by Dale and Cheryl Frantzen with the help of their 3 adult children - Denyse, Sarah and Adam.
Location
248 Line Road, Knox, NY 12023
Products
Scottish Highlander beef cattle grown slowly on grass to a weight to process at but there isn't any fat marbling in the meat at all - NONE. This beef is actually as low in cholesterol as white meat chicken! The beef of this breed is similar, but in our opinion better, than that of Bison beef.
Antibiotic and hormone free turkey were raised on grass and supplemented with grain. For 2009, Frantzen's Scenic Acres is offering Bourbon Red Heritage Breed turkeys. Orders are currently being taken and will be taken as long as supplies last.
Free range chickens and eggs.
In 2008, Frantzen's Scenic Acres began anew with a vegetable crop, chickens for eggs and meat, the purchase of 10 Scottish Highland cattle, and 20 heritage breed turkeys (mixed varieties). Cheryl is especially interested in raising the heritage breed turkey called the Regal Red - helping to bring it back from near extinction.
An inventory was retained of Regal Reds for 2009 breeding. In 2009, the Frantzens also purchased bourbon red adult turkeys for breeding and proceeded to incubate and hatch out well over 100 turkey poults combined. The regal red turkeys will be retained for 2010 breeding stock.
Contact information
Tel. 518-872-1199 / 518-573-5949. e-mail Frantzen Scenic Acres web site.
History
The farm was purchased in the mid-1940s by Dale's parents, with Dale & Cheryl keeping the farm in the family.
Unknowingly, Dale was using grass-fed farming practices well before others were doing so. In the early 1980s, after a visit to Cheryl's grandparents in Vermont where they raised their own beef on their 280 acre dairy farm, Dale decided he could raise his own beef too because the roast that Cheryl's grandmother had cooked was so flavorful and tender. And, so it began. The beef were raised on grass to cut down on expenses. Unfortunately, we discontinued raising our own beef in the 1990s because of time constraints with the children's extracurricular activities.