Foxenkill Grange
From Helderberg Hilltowns of Albany County, NY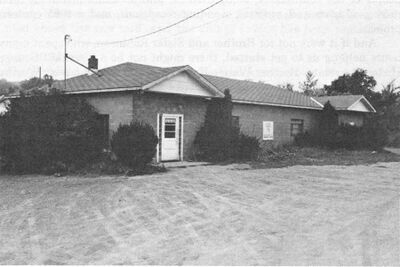 On March 10, 1943, a meeting was held in the Berne Knox Central School, the purpose of which was to discuss the organization of a grange in Berne. Brother Donald Robinson of Helderberg Grange and the Worthy Deputy of Albany County called the meeting to order and explained the history of the grange and the benefits derived from Grange membership, also the requirements for the formation of a Grange. There were 16 prospective members present at that first meeting. The next week on March 17, 1943, another meeting was held. A charter list of 26 members was signed and the name Foxenkill Grange was selected for the new organization. The charter members were, Milton Hart Jr., Virginia Nobles, George Shufeldt, Chester Miller, Hadley Simmons Jr., Walter Truax, Donald Boyden, Frances Miller, Hubert Miller, Raymond Shultes Jr., Charlotte Schultes, Fanny Truax, Milton Hart Sr., Genie Hart, Charles Simmons, Millard Shultes, Frank Hotaling Esther Hotaling, Jesse Jones, Robie Jones, Sarah Jones, Everett Schoonmaker Jr., Oliver Wright, Horace Willsie and Hazel Willsie.
The first officers elected were Master-Donald Boyden, Overseer-Oliver Wright, Lecturer-Virginia Nobles, Secretary-Millard Shultes, Steward- Milton Hart Jr., Chaplain-Fanny Truax, Treasurer-George Shufeldt, Gatekeeper-Hadley Simmons Jr., Ceres-Margaret Boyden, Pomona-Robie Jones, Flora-Hazel Willsie, Lady Ass't Steward-Charlotte Shultes, Executive Committee 3 years-Horace Willsie, 2 years-Chester Miller, 1 year-Jesse Jones.Since then much has been accomplished and enjoyed by the members.
March 12, 1953, the membership voted to buy a lot with water rights at a cost of $100.00, also they voted to incorporate. In 1954, Foxenkill Grange voted to sell refreshments at Skiland. In 1955, plans were being made for the new grange hall, which was designed and blue printed by Donald Boyden; grading was done and in June, the foundation work was started. On May 24, 1954, the grange meeting was held in the new grange hall. The furnace was installed in 1958 and on May 14, 1959, the dedication was held with State Master Leland Smith attending.
All the previous information was taken from the book "Our Heritage" published by the Town of Berne Bicentennial Commission in 1977.