Robinson, Delevan C.
From Helderberg Hilltowns of Albany County, NY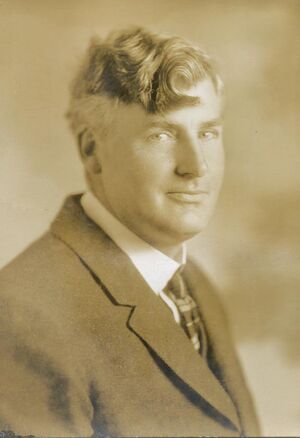 Birth
Delevan C. Robinson was born May, 4, 1885 in Mineral Springs, NY. Delevan was the son of Clarence Robinson and Eva Clarke ( - December 8, 1942). His brother and sisters were:
Paul Robinson of Howes Cave
Mrs. Harold Smith of Old Central Bridge
Mrs. Bertha Southworth (Adopted)
Education
Delevan C. Robinson attended school at Cobleskill. After graduating from high school he attended Carnegie Institute of Technology in Pittsburgh.
Occupation
Delevan C. Robinson - Following teaching for a number of years, he became general manager when Howe Caverns reopened. He lived in Esperance a number of years and moved to Knox cave 33 years ago, where he lived at the time of his death. He opened Knox Caverns 33 years ago and operated Knox Cave Roller Rink, which he built the first year he came here. He had been in ill health for several years, but was active in business.
Marriage & Children
Delevan C. Robinson married Ada L. Morris, the daughter of Julius E. Morris of Walton. ( - October 27, 1964). There were no children.
Death
Delevan C. Robinson died January 5, 1959 at Ellis Hospital, Schenectady. Obituary Delevan C. Robinson Funeral services were held at the funeral parlors in Cobleskill on Thursday, Jan. 8, for Delevan C. Robinson, who died in Ellis hospital, Schenectady, Jan 5. Mr. Robinson was born in Mineral Springs on May, 4, 1885. At the age of four he moved to Howes Cave. He attended school at Cobleskill. After graduating from high school he attended Carnegie Institute of Technology in Pittsburgh. Following teaching for a number of years, he became general manager when Howe Caverns reopened. He lived in Esperance a number of years and moved to Knox cave 33 years ago, where he lived at the time of his death. He opened Knox Caverns 33 years ago and operated Knox Cave Roller Rink, which he built the first year he came here. He had been in ill health for several years, but was active in business. He is survived by his wife, a sister, Mrs. Harold Smith; a brother, Paul Robinson, also several nieces and nephews. Altamont Enterprise - January 23, 1959
Additional Media
Knox Cave article June 19, 1927 Estate of Julius Morris, Ada Morris Robinson's father
Knox Cave article September 16, 1936 D. C. Robinson Visits Sister, Mrs. Harlold Smith
Knox Cave article December 10, 1942 Obituary for Eva Robinson, D. C. Robinson's mother
Knox Cave article October 30, 1964 Death Notice for Ada Morris Robinson
Sources
---