Cooksburg
From Helderberg Hilltowns of Albany County, NY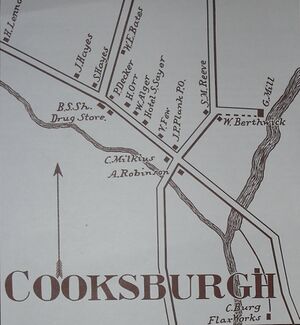 Location
Cooksburg is a hamlet of Rensselaerville in the extreme southwest corner.
History
Cooksburg was settled in Daniel Youngs and Garrett Snyder. In 1840, Cooksburg was named after Thomas B. Cook, of Catskill, New York who played a leading role in bringing the Catskill and Canajoharie Railroad to the hamlet[1].
Early Settlers
Churches
School
Businesses
Hotels and Taverns
Mills
There were two grist mills in Cooksburg. One was located in a field near the intersection of Rt. 81 and Rt. 145 had three turbines in series. One was moved and is now a now a restaurant in Connecticut[2]
Blacksmiths
Stores
Other Businesses
Cemeteries
Photo Gallery
This section is for scenic photos and post cards of the hamlet. Photos of people and families should be posted on biography or family pages.
External Links
Sources