Frink, Charles G.
From Helderberg Hilltowns of Albany County, NY
Birth
Charles G. Frink was born July 2, 1819, the son of Charles Frink and Maria Osterhout.
Education
He attended the common school, and later was a student at the old Knox Academy for a time.
Occupation
He was active in local government, serving as the Supervisor from 1883-1885. He was a mason and a farmer.
Marriage & Children
He married on January 20, 1844 at the Thompson's Lake Reformed Church, Margaret Schoonmaker who was born at about 1823, a daughter of Christian Schoonmaker and Lydia Warner. [1] Their children were:
Death
Charles G. Frink died July 27, 1896. His wife, Margaret, died on April 18, 1889[1] Obituary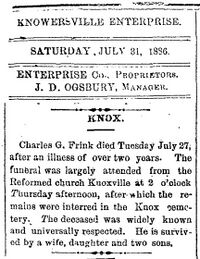 Charles G. Frink died Tuesday July 27, after an illness of over two years. The funeral was largely attended from the Reformed church Knoxville at 2 o'clock Thursday afternoon, after-which the remains were interred in the Knox cemetery. The deceased was widely known and universally respected. He is survived by a wife, daughter and two sons. Altamont Enterprise - July 31, 1896
Additional Media
CHARLES G. FRINK.
Charles Frink came from Connecticut and settled in what is now Knox in 1797. He was the great-grandfather of Mr. Charles G. Frink, the present supervisor of the town. His son, Charles Frink, Jr., married into the Stark family of Connecticut before he accompanied his father to Knox. He became a farmer in Knox, and had three children, two sons and a daughter. The sons were named Russel and Charles, the last mentioned of whom was the father of Mr. Charles G. Frink, Prudence, the daughter, married Oliver Forsyth, of Wright, Schoharie County. Russel married Rebecca Gallup and removed to Schoharie County, and thence to Belchertown, Mass., where he died. Charles married Maria Osterhout, of Knox. They had twelve children, of whom Charles G. Frink, born July 2, 1819, was the oldest. He attended the common school, and later was a student at the old Knox Academy for a time. He was reared by his grandfather, George Osterhout, and lived with him until he was about twenty years old, when his grandfather removed to Fulton, Schoharie County. Later, Mr. Osterhout removed to Rotterdam, Schenectady County, where he died. Mr. Frink learned the mason's trade and worked at it in connection with farming for about seven years. January 20, 1844, he married Miss Margaret Schoonmaker, daughter of Christian Schoonmaker, of Knox. A few years afterward he turned his attention wholly to farming, and since his marriage has lived on the old Christian Schoonmaker homestead, which was inherited by Mrs. Frink. In 1861 he purchased the Osterhout farm, formerly owned by his grandfather. Later, he bought the De Witt Schoonmaker farm. Mr. Frink has had six children, only three of whom are living. They were named, in the order of their birth, Seneca, Charles M., Lydia, Ida, Mary and Minnie. Lydia died July 27, 1860, aged 6 years; Mary died August 19, 1874, aged 13 years; Minnie died August 21, 1874, aged 11 years. Seneca married Emeline Quay, of Knox, and lives on the Osterhout farm. Charles M. married Euphemia Truax, of Knox, and lives with his father. Ida is still a member of her father's family.
Politically, Mr. Frink is not a strong partisan, but inclines to the principles of the Democratic party. He has not been active in politics and has never sought office of any kind, but he has been elected to several minor town offices, and was chosen supervisor of Knox in 1883, and re-elected in 1885. Though not a church member, he has always been a liberal contributor to the support of Christianity in the town. Howell, George Rogers, and Jonathan Tenney. Bi-centennial History of Albany History of the County of Albany, N.Y., from 1609 to 1886. New York: W.W. Munsell &, 1886. Print. Sources
---