Bates, Betsy (Ellis)
From Helderberg Hilltowns of Albany County, NY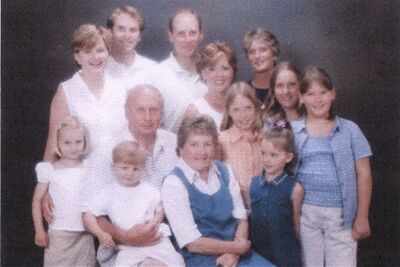 I feel very fortunate to have spent all my summers at the lake with my sisters. Judy and Sue. As a youngster, 1 spent my days with Sue and other kids whose families rented camps on the north end of the lake (Steven Wisley, the Brewer sisters, and Jay, John and Jerry Post). We would catch Frogs and crayfish and build dams in the creek and forts in the woods. I remember one fort in particular. We rigged a cup of water to douse any intruders. My Dad was the recipient of a cup of water on one occasion.
Field Day, now known as I Family Day. also pops into my head as one of the best days of summer. In addition to food and drink, there were many competitions. One was the greased flagpole. They would take the grease, which came from Ted Quay's Garage. And rub it all over the flagpole. At the top was a ten-dollar bill. Kids would try to get that ten dollars for a good part of the day. There were also swimming races and water activities, such as the canoe tilt. The canoe tilt pitted two canoes against each other. Each canoe carried two people. One in the back to paddle and the other standing in the front with a boxing glove attached to the end of a pole. Each one trying to topple the opposing team.
Other brief memories include swimming lessons, the telephone and no hot water or shower facilities. My first memory of swimming lessons was at O'Hanlons and riding there in the rumble seat of my cousin Harriet's car. Then lessons moved to Pangburns (Osterhouts) and the water was freezing because lessons were always very early in the morning. Using the telephone was quite different then. To make a call. one picked up the receiver and the operator would ask what number you wanted. There were no dials or push buttons then. Our number was 4W and our friend's number was 2JR. The phones were usually on party lines. We were with our aunt and uncle, who lived next door. When the phone rang one long ring it was for us, but when there were two short rings, it was for them. We had no hot water, so our father would heat water in a teakettle. I remember that the teakettle was enamel, white with red trim. We also had no shower, so all bathing was done in the lake. In those days we didn't know that soap, which contains phosphorus, was bad for the lake.