Batcher, Grace (B. 1900)
From Helderberg Hilltowns of Albany County, NY
Birth
Grace Batcher was born in 1900. Her siblings were:
Howard Batcher
Charles Batcher
Floyd Batcher
a stepbrother
Education
Occupation
Grace Batcher was a nurse at Westmere Convalescent Home.
Marriage & Children
Grace Batcher married Leland Vincent. Their children were:
Miss Margaret Vincent
Donald Vincent;
Death
Grace Batcher Vincent died April 22, 1959 in Albany hospital.
Obituary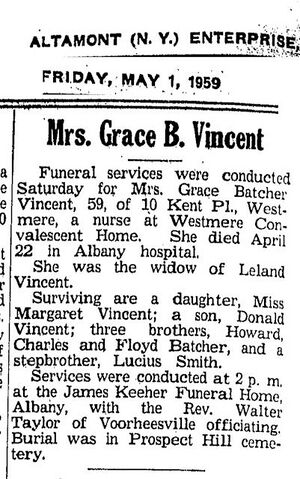 Mrs. Grace B. Vincent
Funeral services were conducted Saturday for Mrs. Grace Batcher Vincent, 59, of 10 Kent Pl., Westmere, a nurse at Westmere Convalescent Home. She died April 22 (1959) in Albany hospital. She was the widow of Leland Vincent.
Surviving are a daughter, Miss Margaret Vincent; a son, Donald Vincent; three brothers, Howard, Charles and Floyd Batcher, and a stepbrother, Lucius Smith. Services were conducted a t 2 p. m. at the James Keeher Funeral Home, Albany, with the Rev. Walter Taylor of Voorheesville officiating. Burial was in Prospect Hill cemetery.
Altamont Enterprise — May 1, 1959
Additional Media
Sources
---