Bassler, Lora J.
From Helderberg Hilltowns of Albany County, NY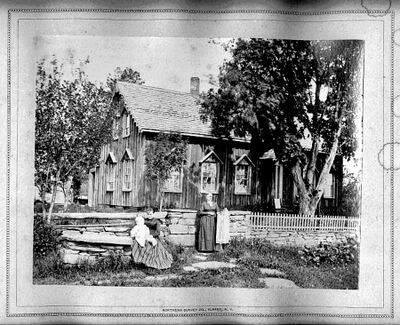 Birth
Lora J. Bassler was born in 1868 [1] to Cyrus B. Bassler [2] (B. July 21, 1841,D. May 17, 1907) and his first wife Jane Onderdonk (B. Jan 25, 1848, M. <1870, D. Aug 9, 1870).[3] Her mother died very early in her life.[3] Lora's father Cyrus Bassler was married a second time to Jane A. Daring (B. April 1852, M. May 5, 1875 Berne, D. Nov 4, 1934) and they had three sons.[3]
Note: Lora's birthdate has been thought to be in early August of 1870 just before her mother's death. However the 1870 US Census dated July 15, 1870 clearly recorded Lora as "Laura" age 2.
Marriage & Children
On June 23, 1889 at 19 years of age, she married Fred H. Bassler who was born in about 1866 in Rensselaerville. He was the son of Amaziah Bassler (B. 1827, D. 1912) and his wife Mary Crippen (B. 1823, D. Sept 25, 1917).[3]

Lora and Fred had four daughters:
Life
By 1900 Lora and her husband were estranged, and the family was separated. Lora's oldest daughter Luella was living with her father Fred and his parents in Rensselaerville.[5] Vertie was living with her maternal grandparents in Knox and Lora was living with her youngest Emma Jean several houses away.[6] Grace's location is unknown. By 1910 Lora was raising her two youngest children in Berne.[7] Grace was listed as a step-daughter in the home of Jacob Hilton and his wife Anna Jane Hays.[7]
Death
In 1936 at 66 years of age, Lora became ill and had to leave her home and went to live with her daughters.[2] She died on January 31, 1937 in Schenectady.[2] She was buried at Beaverdam Cemetery in Berne.[2] [3]
Obituary
Mrs. Lora Bassler entered into rest at Schenectady on Sunday January 31, 1937. Mrs. Lora Bassler daughter of the late Cyrus Bassler in her 67th year. Mrs. Bassler was for years a resident of Berne but because of failing health in the last year she had been in the homes of her daughters. The descendant of a pioneer family of Swiss heritage, Mrs. Bassler possessed in marked degree many characteristics of her honored ancestry. She was a keen observer of human nature, an enthusiastic admirer of the beauty in the world about her, an independent spirit marked by unusual dignity. The Rev. D. L. Kinney officiated at the funeral services on Wednesday after the Reformed Church where Mrs. Bassler was for more than 50 years a member. The burial was in the family plot in Beaverdam Cemetery among generations of her kindred. Four daughters survive; Mrs. Frank Wright of Berne, Mrs. Charles Phillips of Oakland California, Mrs. Charles Abeel of Schenectady and Mrs. William Wallace of Albany. She has also seven grandchildren and two half brothers living Manford and George Bassler of Knox."[3]
---
Funeral service for Mrs. Lora Bassler was conducted Wednesday afternoon at the church. We commend the sorrowing family to the Great Comforter.
Additional Media
Sources
---