Barnish, Francis E.
From Helderberg Hilltowns of Albany County, NY

Birth
Francis E. Barnish was born August 2, 1919, probably in Chicopee, MA, the son of John Barnish and Evelyn. His brother and sisters were:
Education
Occupation
Military
US Navy World War II Korea
Marriage & Children
Francis Barnish married Theresa Edgar (1925 - 1976)
Death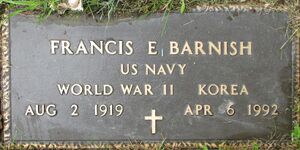 Francis E. Barnish died April 6, 1992 and was buried at Knox - High Point Cemetery - Francis E. Barnish US Navy World War II Korea Aug. 2, 1919 Apr 6, 1992
Obituary
Additional Media
Barnish Brothers Injured In Crash
Francis E. and Richard Barnish of Witter Road, Town of Knox, were injured last Thursday when their car went off Route 146 just west of Altamont. They went into a ditch when Francis swerved to avoid an oncoming carin the wrong lane, according to their sister, Delia Palombo.
Francis was treated at Veteran's Hospital for multiple cuts and bruises and an injured knee. He is recovering at his sister's home. Richard remains in St. Clare's Hospital with cuts on the face, bruised ribs and other injuries.
Altamont Enterprise - January 7, 1988
Sources
---