Barckley, Michael Henry - GAR Post 198
From Helderberg Hilltowns of Albany County, NY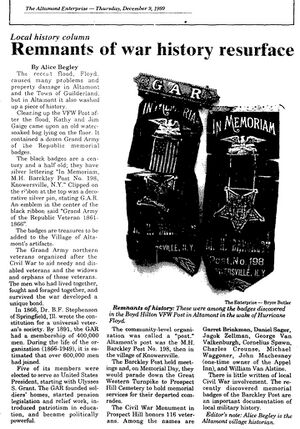 Local history column
Remnants of war history resurface
By Alice Begley
The recent flood, Floyd, caused many problems and property damage in Altamont and the Town of Guilderland, but in Altamont it also washed up a piece of history.
Cleaning up the VFW Post after the flood, Kathy and Jim Gaige came upon an old watersoaked bag lying on the floor. It contained a dozen Grand Army of the Republic memorial badges.
The black badges are a century and a half old; they have silver lettering "In Memoriam, M.H. Barckley Post No. 198, Knowersville, N.Y." Clipped on the ribbon at the top was a decorative silver pin, stating G.A.R. An emblem in the center of the black ribbon said "Grand Army of the Republic Veteran 1861- 1866".
The badges are treasures to be added to the Village of Altamont's artifacts.
The Grand Army northern veterans organized after the Civil War to aid needy and disabled veterans and the widows and orphans of those veterans. The men who had lived together, fought and foraged together, and survived the war developed a unique bond.
In 1866, Dr. B.F. Stephenson of Springfield, 111. wrote the constitution for a universal veteran's society. By 1891, the GAR had a membership of 400,000 men. During the life of the organization (1866-1949), it is estimated that over 600,000 men had joined.
Five of its members were elected to serve as United States President, starting with Ulysses S. Grant. The GAR founded soldiers' homes, started pension legislation and relief work, introduced patriotism in education, and became politically powerful.
The community-level organization was called a "post." Altamont's post was the M.H. Barckley Post No. 198, then in the village of Knowersville. The Barckley Post held meetings and, on Memorial Day, they would parade down the Great Western Turnpike to Prospect Hill Cemetery to hold memorial services for their departed comrades. The Civil War Monument in Prospect Hill honors 116 veterans.
Among the names are Garret Brinkman, Daniel Sager, Jagok Zellman, George Van Valkenburgh, Cornelius Spawn, Charles Crounse, Michael Waggoner, John Machesney (one-time owner of the Appel Inn), and William Van Alstine.
There is little written of local Civil War involvement. The recently discovered memorial badges of the Barckley Post are an important documentation of local military history.
Editor's note: Alice Begley is the Altamont village historian.
The Enterprise — Bryce Butler Remnants of history: These were among the badges discovered in the Boyd Hilton VFW Post in Altamont in the wake of Hurricane Floyd.
Altamont Enterprise - December 9, 1991