Ball, Ada
From Helderberg Hilltowns of Albany County, NY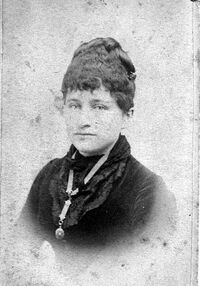 Birth
Ada was born about 1860, one of three daughters of John Peter Ball and Jerusha Dearstyne.
Occupation
Ada probably worked with her husband in their drug store in Owego N.Y. They also were both studio phographers. There are several photographs of each of them and their house in existance.
Marriage & Children
Ada Ball married Estes Cartwright born about 1859 who died after 1910. Estes was a drugist who operated a drugstore in Owego N.Y.
Death
Ada died sometime after 1910 Ada died c. early 1950s. I(Allan Deitz) visited her with Clyde and Alta Ball at her home in Owego, NY at least two times c. 1950 and took her out to dinner. She was probably 91 or 92 years old then. She is probably buried in Owego with her husband, Estes.
Additional Media
Sources
---