August 2, 1880 - Casualty Sheet
From Helderberg Hilltowns of Albany County, NY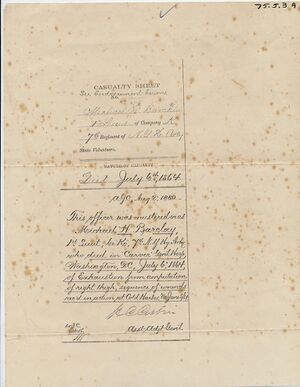 Casualty Sheet
See Endorsement herein
No....
Michael J. Barckley
1 Lieut of Company K
7th Regiment of N. Y. H. Arty
State Volunteers
---
Nature of Casualty
Died July 6thm 1864
A. G. O. Aug 2, 1880
This officer was mustered in as
<a href="index669a.html?title=Barckley,_Michael_Henry" title="Barckley, Michael Henry">Michael H. Barclay</a>
1st Lieut. Co. K, 7th N.Y. Hy. Arty
who died in Carver Gen'l Hosp.
Washington, D. C., July 6, 1864
of Exhaustion from amputation
of right thigh, sequence of wounds
rec'd in action at Cold Harbor, Va. June 5/64
?????????
Asst. Adjt. Gen'l
Casualty Sheet
See Outside
Name: Michael J. Barckley
Rank: 1 Lieut Company K Regiment 7
Arm: H. Arty State: New York
Nature of Casualty: Wounded June 5, 1864 at Cold Harbor
Died of Wounds: Date & Place of Death not stated
See outside
Cause of Casualty - (Name of Disease, &c.) See above
Degree of Disability
By Whom Certified
Date of Discharge, Death, &c. See above
Place of Discharge, Death, &c. See above
By Whom Discharged:
From What Source This Information Was Obtained.
List of Casualties in 7 N. Y. H A
from May 5 to July 19, 1864; signed
Geo. H. Treadwell, Capt: comd'g Regt
Remarks
Index 38 No 45
?????
T. G. Ash Clerk