Jansen, Anna R.
From Helderberg Hilltowns of Albany County, NY
Birth
Anna R. Jansen was born February 22, 1890, the daughter of Calvin Jansen (1866 - 16 DEC 1935) and Eliza Resue (ABT 1868 - AFT 1920) Her brothers were:
Leo H. Jansen ( - UNKNOWN)
Arthur Jansen (31 OCT 1887 - 4 FEB 1933)
William Resue Jansen (16 MAY 1893 - UNKNOWN)
Jarvie C. (Jarvey) Jansen (30 MAR 1906 - OCT 1988)
Education
Occupation
Marriage & Children
Anna R Jansen married 25 FEB 1908 at Berne, Albany, NY Charles L Adams (30 NOV 1879 - 3 NOV 1956). Their children were:
Ethel Mae Adams ( - UNKNOWN)
Ruth Mary Adams (23 AUG 1911 - 28 JUL 1996) married Arthur D. Wickham
Alice A Adams (1913 - 1939) married Clarence Hayes
Death
Anna R. Jansen died December 24, 1965
Obituary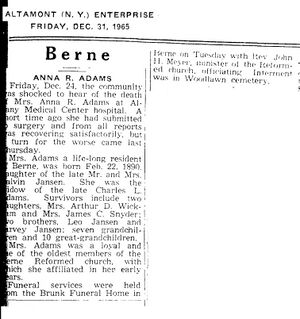 Anna R. Adams
Friday, Dec. 24, (1965) the community was shocked to hear of the death of Mrs. Anna R. Adams at Albany Medical Center hospital. A short time ago she had submitted to surgery and from all reports was recovering satisfactorily, but a turn for the worse came last Thursday.
Mrs. Adams a lifelong resident of Berne, was born Feb. 22, 1890, daughter of the lat Mr. and Mrs. Calvin Jansen. She was the widow of the late Charles L. Adams. Survivors include two daughters, Mrs. Arthur D. Wickham and Mrs. James C. Snyder; two brothers, Leo Jansen and Jarvey Jansen; seven grandchildren and 10 great grandchildren. Mrs. Adams was a loyal and one of the oldest members of the Berne Reformed church, with which she affiliated in her early years.
Funeral services were held from the Brunk Funeral Home in Berne on Tuesday with Rev. John H. Meyer, minister of the Reformed church, officiating. Interment was in Woodlawn Cemetery.
Altamont Enterprise — December 31, 1965
Additional Media
Jansen
Memories of Loved Ones
Never Die
Jarvie
March 30, 1906-Sept 25, 1988
Florence
Dec 17, 1910-Dec 24, 1991
Woodlawn Cemetery
Sources
---