Ahlhof, Henry
From Helderberg Hilltowns of Albany County, NY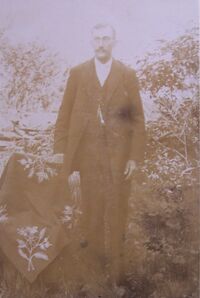 Birth
Henry Ahlhof was born on abt. 1861, in New York to John Ahlhof (B. abt 1809) and his wife Catharine (B. abt 1809).[1][2] His exact birth location has not been determined. His parents were born in Darmstadt, Germany.[1]
Occupation
He was a farmer and laborer.
Marriage & Children
Henry married Henryetta Freleigh circa 1904 and they had two children and they raised them in the Indian Fields area.[3][2]
Life
In the 1860 US Census, Henry was living in Coeymans Hollow with his parents and three siblings.[1]
Death
He died October 23, 1941.[2]
Obituary
Additional Media
Sources
---