Truax, Agnes E.
From Helderberg Hilltowns of Albany County, NY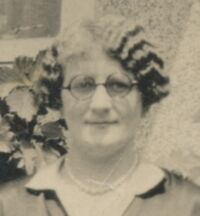 •
Birth
Agnes E. Truax born in New York in June 23 (25)[1], 1895, the daughter of William J. Truax (October 20, 1865 - March 26, 1944) and Elva Haverly (November 7, 1864 - December 3, 1950). Her sisters were: • Olive Margaret Truax ( - May 3, 1971) married LeRoy A. Crounse ( - April 4, 1975) of Altamont • Ethel Martha Truax (December 5, 1890 - July 2, 1972) married Schuyler M. LaGrange ( - December 19, 1948) of Guilderland Center and Schenectady.
Education
Miss Agnes Truax, the youngest daughter of Mr. and Mrs William Truax, is a member of the graduating class (1912) of the Albany High School. ([[Altamont Enterprise - May 17, 1912) Miss Agnes Truax is a student at the Troy Conservatory of Music. (Altamont Enterprise - November 27, 1914) Agnes was a student at Albany State College. (Altamont Enterprise - May 1, 1984)
Occupation
Miss Agnes E. Truax, librarian of the McKinley Intermediate School Library; (Schenectady) (Schenectady Gazette - May 9, 1929) Requests for leaves of absence were approved Miss Agnes E. Truax, Nott Terrace high school librarian, first semester of 1954-55, for travel in Europe. (Schenectady Gazette - January 29, 1954)
Marriage & Children
Agnes Esther Truax never married
Death
Agnes E. Truax died on February 23, 1984. Obituary
Sympathy to Esther (Crounse) Schultz in the death of her aunt, Agnes Truax. Agnes was youngest of three daughters of Will Truax. They lived on the farm where Marion and Bob Parmenter are now. Eldest daughter, Ethel, married Schuyler LaGrange. Olive married Roy Crounse, was mother of Esther, and teacher of Locust Vale, Tygert District. My Ken remembers Agnes Truax because she went with him to sign up to attend Milne High. Olive, sister of Agnes, was Ken's teacher. Agnes was a student at Albany State College. He also recalls that Agnes used to ride a black pony from the Truax farm to the village. Altamont Enterprise - May 1, 1984
Additional Media
Marion Parmenter donated several documents detailing early ancestors of the Truax family. William J. Truax Ancestors Social Security: Name: Agnes Truax SSN: 106-32-2701 Last Residence: 12186 Voorheesville, Albany, New York, United States of America Born: 23 Jun 1895 Died: Feb 1984 State (Year) SSN issued: New York (1957-1959)
TruaxAgnesE1927.jpg

Agnes E. Truax - Taken July 14, 1927, the day we started on our trip to California. (on back of photo)
Sources Special thanks to Marion Parmenter who sent the pictures and genealogies to John Elberfeld. Marion and Bob Parmenter live in the William J. Truax farm.
---