Bogardus, Adam H.
From Helderberg Hilltowns of Albany County, NY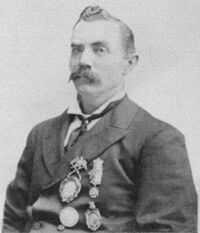 Birth
Adam Henry Bogardus was born September 17, 1833, the son of Adam Bogardus (1803-1870) and Catherine Bice (1813-after 1870)
Occupation
Adam began shooting a "Brown Bess" type musket at age 15, before he was 20, he had the reputation of being the best shot and hunter in his area. In the fall of 1856 he moved to Petersburg Illinois. He was a carpenter by trade but became a market hunter to earn more money. There was a big demand for wild game around the Chicago area. He later began to shoot professionally and was the world wing shot champion for 17 years. He was credited with inventing a better glass ball target used in trap shooting and a trap to throw it. In 1883 qnd 1884, Capt. Bogardus was a one-third partner in Buffalo Bill's Wild West Show.
Marriage & Children
Adam H. Bogardus married Cordelia Dearstyne (b-1834), on December 2, 1854 at the Town of Berne. Their union produced the following 5 children:

Death
Adam Henry Bogardus died March 23, 1913.
Obituary
Additional Media
Sources
---