91st Infantry
From Helderberg Hilltowns of Albany County, NY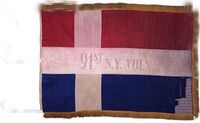 91st Infantry

Albany Regiment; Columbia County Regiment
This regiment was organized at Albany December 16, 1861, by the consolidation of the regiment recruited by Col. David S. Cowles, with the men recruited for the Fredendall Regiment, and the appointment of Jacob Van Zandt as its Colonel. The regiment left the State January 9, 1862; it served at and near Washington, D. C., from January 1862; at Key West, Fort Pickens and Pensacola, Fla., from later in January, 1862; at Baton Rouge, La., from December 19, 1862. It was stationed at Fort Jackson, La., in July, 1863, and was active with heavy loss during the siege of Port Hudson. In the autumn of 1864, it returned to Baltimore, where it was assigned to the 2nd separate brigade, 8th corps. In March, 1865, the regiment, with the exception of one company which remained at Baltimore, was ordered to Petersburg, where it participated in the closing operations of the siege with the 1st brigade, 3d division, 5th corps, and lost 230 in the Appomattox campaign. The regiment was mustered out near Washington, July 3, 1865.

During its service the regiment lost by death, killed in action, 2 officers, 62 enlisted men; of wounds received in action, 2 officers, 48 enlisted men; of disease and other causes, 1 officer, 187 enlisted men; total, 5 officers, 297 enlisted men; aggregate, 302; of whom 2 enlisted men died in the hands of the enemy.

Among those killed in action:

Cyrus Ostrom of Berne was a 37 year old Private of Company D who was killed in action at Port Hudson, VA on June 14, 1863 and was buried there. He left a widow and 2 small children.
Among the wounded:

Among the disabled:

Among those who died of disease: